Parris Campbell just might not pan out for the Colts' offense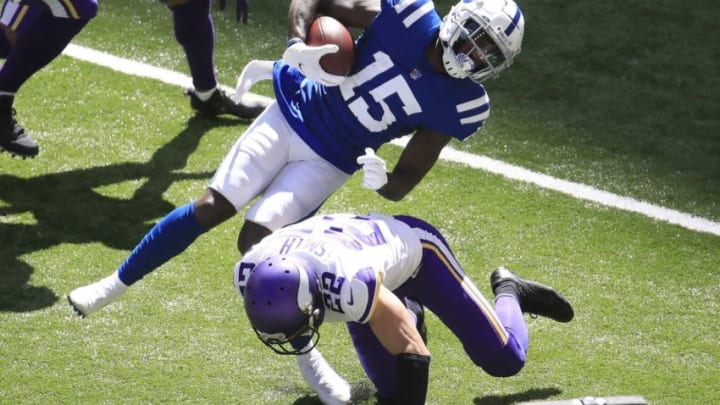 INDIANAPOLIS, INDIANA - SEPTEMBER 20: Parris Campbell #15 of the Indianapolis Colts is tackled by Harrison Smith #22 of the Minnesota Vikings at Lucas Oil Stadium on September 20, 2020 in Indianapolis, Indiana. (Photo by Andy Lyons/Getty Images) /
The Colts shouldn't be counting on WR Parris Campbell to be a part of the offense moving forward.
It's never a good sign when organizations withhold information about a player's recovery from an injury, and the Indianapolis Colts' conservative approach to wide receiver Parris Campbell's rehab has unfortunately validated that notion.
The last we heard of Campbell, who underwent knee surgery to repair an MCL injury he suffered back in Week 2 following a gruesome collision, came last month when head coach Frank Reich disclosed that it was "too early to tell" if he would return this season.
Well, we finally have another update on Campbell, and it unfortunately doesn't bode well for his long-term outlook. According to Zak Keefer of The Athletic, a team source indicated that it would take a "minor miracle" for him to return to the field this season.
Assuming this report comes to fruition, it might be time for fans in Indianapolis to start wondering if the 2019 second-round pick will ever be able to consistently contribute in this offense.
Much like the coaching staff, we were singing Campbell's praises throughout training camp and were adamant in declaring that he would enjoy a breakout season as a sophomore after injuries derailed his highly-anticipated rookie campaign.
His performance in Week 1 suggested that would be the case, too, as he led the team with six receptions for 71 yards on nine targets. However, the fact that he had to go under the knife to repair his knee injury and (presumably) won't be able unable to recover by the end of the season just speaks to his lack of durability.
As a rookie, Campbell underwent surgeries to repair a sports hernia, fractured hand and fractured foot, which means this is the fourth (!) operation he's undergone across his first two seasons in the league — three of which involved injuries to parts of the body he relies heavily on to create separation from defenders.
If there's a silver lining to be had in all of this, it lies in the fact that Campbell will be 100% in time for next season, when the Colts will be expected to take a significant leap in terms of becoming championship contenders.
However, at this point, the coaching staff can't rely on the former Ohio State star to be the dynamic game-changer they thought he would be when they drafted him in 2019. The raw talent is still there for him to reach his potential, but making him a focal point of the offense simply cannot be done given his injury history.
That might be unfair considering that this specific injury was the result of a bang-bang collision, but it's unquestionably the most severe of Campbell's laundry list of designations and deserves to trigger concerns about his future.