Colts: Jonathan Taylor's absence clearly affected backfield plans vs Titans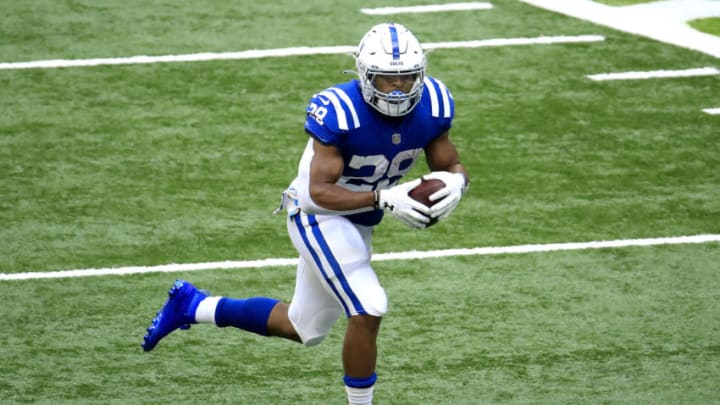 INDIANAPOLIS, INDIANA - OCTOBER 18: Jonathan Taylor #28 of the Indianapolis Colts carries the ball against the Cincinnati Bengals during the first half at Lucas Oil Stadium on October 18, 2020 in Indianapolis, Indiana. (Photo by Andy Lyons/Getty Images) /
The Colts' backfield plans for Sunday were clearly derailed after Jonathan Taylor was ruled out.
Fans in Indianapolis have been quick to criticize running back Jonathan Taylor for his lackluster rookie campaign, and we've echoed those concerns when it's been warranted. After all, he hasn't been close to the stud workhorse we all expected him to become after starter Marlon Mack was lost for the season back in Week 1.
Thus far, the 2020 second-round pick has totaled 518 rushing yards on a pedestrian 3.8 yards per attempt. He's also seen his snap share decrease in emphatic fashion — especially in the second half of games — as the season has progressed.
With all of that being said, however, the ineffectiveness of the Colts' running game (while he was sidelined) in Sunday's loss to Tennessee proved that Taylor deserves much more respect than he's been given this season.
After enjoying a career game vs the Titans last time out, it's pretty clear Tennessee made it an emphasis to stop Nyheim Hines, who managed just 29 yards on 10 carries. While he led the team with eight receptions in the passing game, he only made 66 yards of them, further proving that they game-planned to limit his impact in the open field.
Jordan Wilkins, meanwhile, continued to prove that his breakout game against Detroit was nothing more than a fluke, as he totaled fewer than 30 rushing yards for the third straight game. When all was said and done, the Colts finished the game with 21 rushes for 56 yards (2.6 YPC).
You mean to tell us that Taylor wouldn't have made a difference? For as much as the Wisconsin product has struggled as a rookie, he was entering Sunday on the heels of arguably the most efficient game of his young career vs Green Bay, when he logged 22 carries for 90 yards (4.1YPC), to go with four receptions for 24 yards.
Knowing that Tennessee was going to focus on stymieing Hines, you have to think that the Colts' coaching staff was planning to unleash Taylor in some way on Sunday.
We're not saying that the Titans wouldn't have rode Derrick Henry to a convincing victory even if the former Badger was available, but there's no doubting that Indianapolis' game plan was thrown off the rails after they found out he wouldn't suit up due to COVID-19 protocols.