Colts getting bullied by Derrick Henry shouldn't be story of AFC South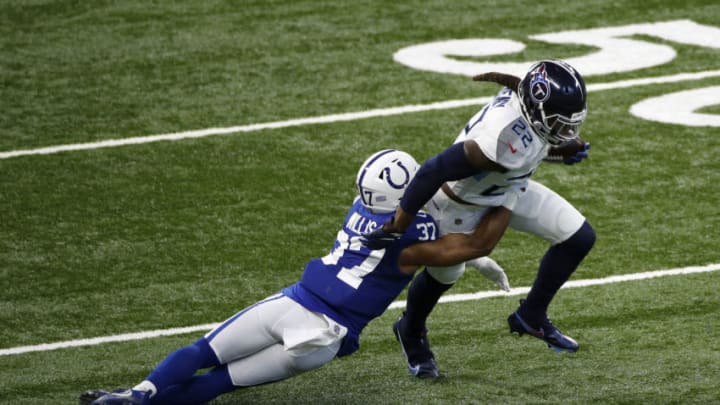 INDIANAPOLIS, INDIANA - NOVEMBER 29: Derrick Henry #22 of the Tennessee Titans attempts to break a tackle from Khari Willis #37 of the Indianapolis Colts during their game at Lucas Oil Stadium on November 29, 2020 in Indianapolis, Indiana. (Photo by Michael Hickey/Getty Images) /
The Colts were mashed into the turf by Derrick Henry Sunday afternoon, but the story will be different when they're at full strength.
Derrick Henry didn't even need a second half on Sunday to punish the Colts' slapdash second-string defense.
When the first-half bell sounded, what was left of Indy's top defense had seen enough. Unable to jam him at the line, tackle him in the open field, or stop his personal momentum in any capacity, Henry entered the locker room with 17 carries, 140 yards, and a trio of touchdowns, and though he "slowed down" in the second half, it was only because Mike Vrabel saw no reason for his continued presence in the game.
But no matter. If the Colts see the Titans again, it won't look anything like this. For a multitude of reasons.
There's no shame in losing to Henry (and AJ Brown, who muscled through for a ridiculous 69-yard touchdown), in theory. But since they're on your schedule for the next several years twice annually, it would be nice to have a mastery of their craft.
But you may never see this divisional battle again with such a weakened Colts squad coming to play. Without Denico Autry and DeForest Buckner, Henry's path up the middle was far simpler. Bobby Okereke's ankle injury, unrelated to the COVID list, also put a damper on this face-off.
Add in Jonathan Taylor's last-minute disappearance and Ryan Kelly and Anthony Castonzo both being ruled out by the time this game hit its fever pitch, and you've got a recipe for disaster and a mismatched rivalry.
And we know this could've unfolded differently, because, well…it just did go a lot differently a few weeks ago.
When these two teams faced off in Tennessee just two weeks ago, Henry still got his — 103 yards on 19 carries — but it just didn't matter. The Colts were more coordinated. Their elite defense was reinforced, prepared to withstand the punishing Titans back. Always bending, never shattering.
The Colts' special teams unit was, well, special in that game, wreaking havoc on a field goal attempt that halted all the Titans momentum in its tracks. The second half we watched in that game featured a swarming defense that couldn't be pushed around.
But on Sunday? All those people were gone, leaving eminently push-able players in their wake. Next time, that won't be the case. And we can't allow what we saw on Sunday to cloud our assessment of the AFC South picture, present and future.