Colts: Fans will attend home opener in unexpected twist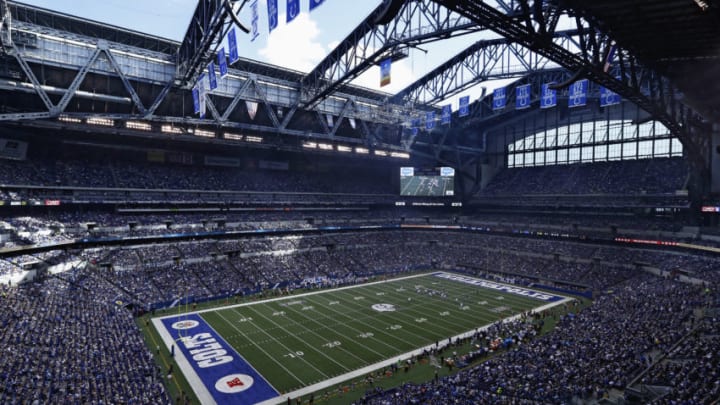 Lucas Oil Stadium (Photo by Joe Robbins/Getty Images) /
The Colts announced that fans will be allowed to attend their 2020 home opener.
The Indianapolis Colts have done everything in their power to ensure fans have an opportunity to attend home games this season. Of course, the coronavirus pandemic has complicated things, as their projected capacity at Lucas Oil Stadium for Sept. 20 has understandably fluctuated over the last few months.
Back in July, the Colts announced they were anticipating a 25% capacity for the home opener. Just last week, however, it was revealed that they were planning to start the campaign with home games at 15% capacity.
Well, fans will be relieved to know that Indianapolis has come to a final decision, as the franchise will host a maximum of 2,500 attendees for the home opener against the Minnesota Vikings. Other teams have it much worse.
Per the official team website, this capacity was determined after consultations with the Marion County Public Health Department. This attendance number will see the organization meet the three mandated guidelines (local, NFL, and CDC) implemented to help curb the spread of COVID-19.
Indianapolis disclosed that it would release health and safety formalities for all home games sometime next week. Furthermore, the franchise will establish a process to refund those fans who already purchased a ticket for the home opener or a four-game pack that included the Sept. 20 fixture.
Colts chief operating officer, Pete Ward, released the following statement regarding the surprising announcement:
""Our top priority always will be the health and safety of fans, players and staff, so we must take the necessary precautions to keep everyone safe, which includes a reduced stadium capacity on game day. We will continue to work with local health officials on steps that will allow our season to go on as safely as possible with fans in the stands. And we continue to appreciate the patience of all our fans as we navigate the fluid nature of this pandemic.""
This certainly isn't what the Colts have been leading on for the last several months, but a 3.7% capacity seems like the smart move. That number is subject to increase as the season wears on, but it's definitely better to err on the side of caution, especially at the start of the campaign.
As of this writing, Indianapolis is one of five organizations — Dallas, Jacksonville, Kansas City and Miami — with plans in place (albeit different ones) to begin the 2020 season with fans in the stands.
How are we feeling, Colts Nation?