Colts: team announces encouraging news about fans attending games in 2020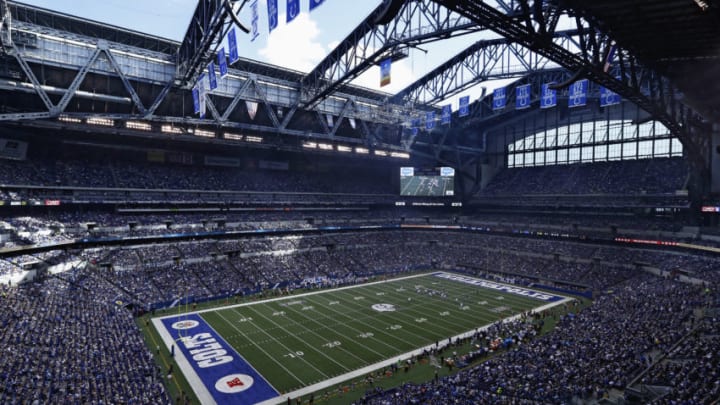 Lucas Oil Stadium (Photo by Joe Robbins/Getty Images) /
The Colts provided an update about fans attending games this season.
With NFL training camp looming, it seems like an appropriate time for fans to begin pondering if they will be allowed inside stadiums at any capacity for the upcoming season.
The heartbeat of the pandemic throughout the country is very much a fluid situation, so there's no way to know what the percentage of positive cases will be like come September.
Will a second wave hit or will the premature reopenings around the country continue to set us back?
Whatever the case, the Indianapolis Colts announced an encouraging update on the prospect of fans attending games at Lucas Oil Stadium in 2020.
Due to state regulations and safeguards pertaining to the pandemic, the Colts anticipate that there will be a 25% stadium capacity limit during the 2020 season. This limit would seat a maximum of approximately 15,000 fans inside the 63,000-seat stadium.
As a result, Indianapolis will offer two half-season ticket plans with seniority determining who will have the privilege of attending games. Not only will seat locations be retained for the 2021 campaign, but 2020 season tickets will be deferred to next year with payments attributed to the 2021 season.
Furthermore, season ticket holders will receive right of way access to buy a ticket plan this year. Again, this process will be entirely based on seniority. Lastly, holders — instead of crediting their account for the 2021 season — will have the choice of receiving a full refund. In an accommodating gesture from the Colts, fans who opt for a refund won't have their standing for purchasing tickets for next year impacted.
https://twitter.com/newsladyB/status/1286757325265448960
Another neat nugget of this proposal gives fans the option between two different sets of games. The first package includes matchups versus the Vikings, Ravens, Texans and Titans, while the second slate features tilts against the likes of the Jets, Bengals, Packers and Jaguars.
This is class personified from Indianapolis, and we would expect nothing less from owner Jim Isray and the rest of the front office. As if revealing that 15,000 seats inside Lucas Oil Stadium could be filled this season wasn't enough to uplift the spirits of the fan base, the organization also revealed that its fully prepared to cater to fans amid the pandemic-induced financial crisis.
The rest of the NFL should take notes, because this is how it's done.