Deon Cain Shows Perseverance In 'Colts Forged: Cains Comback'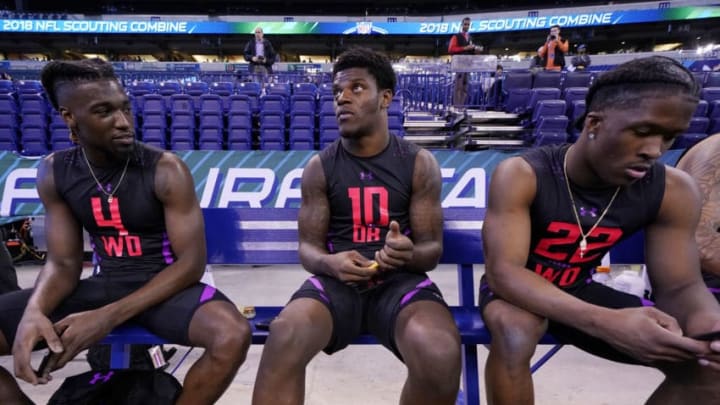 INDIANAPOLIS, IN - MARCH 03: Louisville quarterback Lamar Jackson looks on while talking to Clemson wide receivers Deon Cain (left) and Ray-Ray McCloud (right) during the NFL Combine at Lucas Oil Stadium on March 3, 2018 in Indianapolis, Indiana. (Photo by Joe Robbins/Getty Images) /
Deon Cain left the field on August 9th, 2018 with a torn ACL in his rookie debut. He's back and ready for the 2019 season with a new mindset.
Colts Forged is a new series on Colts.com covering players forged under pressure and coming back from hardships. Deon Cain tore his ACL in Seattle, Washington, during the 2018 preseason against the Seahawks. Although he had impressive combine numbers for a Wide Receiver, he was taken the 6th round – Pick 185 –  and the Colts felt they got a steal with him.
4,43 40 yard dash
115″ broad jump
6.71 3 cone drill
4.37 20 yard shuffle
While Cain wasn't a starter his whole career, he averaged over 19 yards a catch on 38 receptions compiling 724 yards with 9 touchdowns.
In part one of the two-part coverage of him, he talked about the injury and post-operation recovery on his back to the field catching passes from Andrew Luck:
"Almost 16,17 years straight of football. Maybe I put too much pressure on myself to be this person. I was just running a route, then it just…..popped."
Deon's injury came on a hook route just 8 yards down the field. He turned around, fell down and wasn't able to get up. "A freak accident happened" as he describes the play.
"It just felt a little weird. I tried to stand back up and just fell straight to the ground. I said 'oh, that ain't feel right right there." And then, you know, when your legs get numb, I ain't never felt that before. That's when Hammer came over (Colts Head Trainer, David Hammer) and he was like 'are you ok?' And I said 'I don't know.' And then he sat me down and started doing the little leg pull stuff. Once I seen that and it was a little jello, I was like 'I think I'm done.' He was like 'uh, yeah that's your ACL right there' and I was like 'is it torn?' He said 'yeah, it's torn.' Once he told me that, I gave him one of those looks……….."
CLEMSON, SC – OCTOBER 17: Deon Cain #8 of the Clemson Tigers reacts after a catch during the game against the Boston College Eagles at Memorial Stadium on October 17, 2015 in Clemson, South Carolina. (Photo by Tyler Smith/Getty Images) /
He clenched his fist in frustration as he knew his season was ending. He describes wanting to walk off the field and not wanting to be carted off.
"I knew I couldn't get carted off, that was one thing. Can't get carted off. I took it all like a man, just, like, walk off the field. And then, as I got to the locker room, man, I was just shocked. Like, why would an injury fall on such a good day, my first NFL game, birthday, family's here. There was just so much good going on, you feel me? I just put my head down, shed few tears, just right there from that moment, I knew I had to get to work."
An ACL injury used to be nearly a career-ending injury. But with advancements in medical technology and physical therapy, players can come back within a 12 month period – unless you're Adrian Peterson and can do it in 9 months.
"I'll never forget, August 28th. It was the day for me (day of his surgery), I was so nervous, so nervous. Like, crazy nervous. My mom was trying to calm me down, like, she's like, 'here, you're gonna be fine.' Prayed right before and I felt so confident going into the surgery that I was good. And then once I got out of it, that's when it started. I come out and there's a big 'ol cast on m y leg. I wake up and I just immediately crying. I had never been hurt before. You know, like, I've dealt with injuries before, Bu I've never been hurt to the point that I needed surgery. And I see my leg up in a clasp and all different type of things coming out of my leg and I'm just like 'mom, this is, this not where I'm supposed to be.' And she said 'well, you here right now. What are you going to do?'"
Beginning a recovery from an ACL is hard, but being a professional athlete who uses their body constantly is another story. I had an MCL tear fixed and it took me nearly 12 weeks to recover. I'm not an athlete and I still have issues with it to this day. However, Deon never gave up.
"I had so many questions. But at the end of the day, just had to let God gives me the answers for it. Because everything happens for a reason. Football is football, freak accidents are going to happen. I'm really grateful for the injury because it made me learn a lot about myself and it got me closer to Him. Football is going to be easier for me. Next: Reich praises Ballard's efforts"
The schedule hasn't been released for the preseason yet, but one can hope and assume with all the hard work Deon Cain has put into his recovery, he will be out on the field day 1 and he'll be working harder than ever for that roster spot.