Colts 2018 rookies: Deon Cain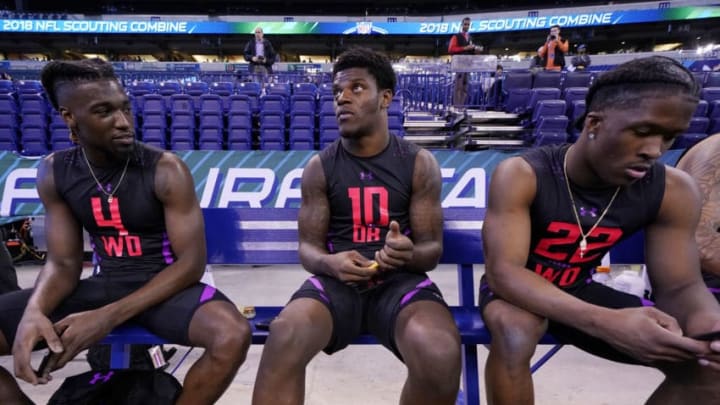 INDIANAPOLIS, IN - MARCH 03: Louisville quarterback Lamar Jackson looks on while talking to Clemson wide receivers Deon Cain (left) and Ray-Ray McCloud (right) during the NFL Combine at Lucas Oil Stadium on March 3, 2018 in Indianapolis, Indiana. (Photo by Joe Robbins/Getty Images) /
The Colts drafted two wideouts in April, but one of them looked way better than the other. Unfortunately, that guy didn't get to play the whole season.
Deon Cain was drafted by the Colts in the 6th round out of Clemson. He wasn't super productive there, but the ball was spread around a lot. Cain looked really good in camp. He made several spectacular catches while I was there personally.
Unfortunately, he tore his ACL before he got to play in a regular season game. Cain was lost for the season and didn't have a chance to show what he could do. It was truly a shame, especially with how bad the receivers were early in the year with dropped passes.
Next year, Cain has a chance to emerge as a number two or three receiver for the Colts. Assuming he can get healthy, he can be a factor on the field. Unfortunately he didn't get a rookie season to get out on the field and make mistakes to help him learn, so that will have to happen next year.
There is always a chance that Cain doesn't fully recover from his injury though. If that is the case, then Cain might not be a good option for this team. The Colts are confident that he does have a full recovery though. If he does, he can be an upgrade at the position.
Only time will tell if Cain ends up being productive at all in the NFL. I would like to see him get a chance next season though. I would love to see what he can do next to Andrew Luck.