Colts vs Bears: Next Day Analysis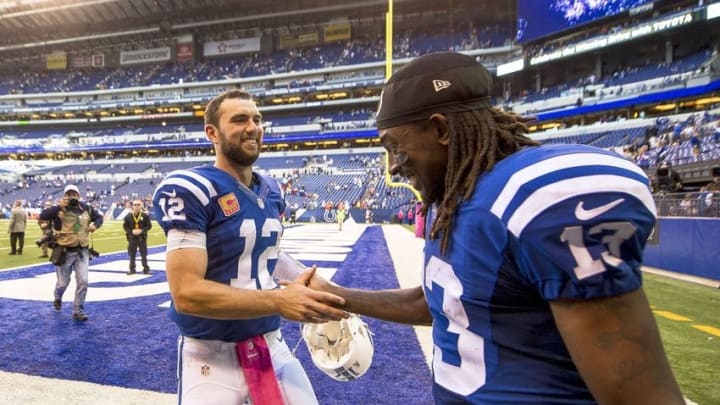 Oct 9, 2016; Indianapolis, IN, USA; Indianapolis Colts quarterback Andrew Luck (12) and Colts receiver T.Y. Hilton (13) embrace after their victory over the Chicago Bears at Lucas Oil Stadium. Mandatory Credit: Thomas J. Russo-USA TODAY Sports /
The Indianapolis Colts may have defeated the Chicago Bears on Sunday, but they needed another late game rally as the same problems we've seen for years plagued the home team.
The Colts staved off an ugly bout of disfunction with a win against the Bears Sunday afternoon. Coach Chuck Pagano and GM Ryan Grigson avoided public cries for their heads (at least from most of the media) but it wasn't an easy win.
Every game this season has been a struggle. Two years ago, the Colts might have rolled over at least three of their opponents and come away with blowout wins. But now they have to make everything difficult. Had the Colts lost, things would be different right now, but the win still doesn't cover up the fundamental flaws of this team.
For once, the Colts opened up a game on offense with a little bit of pace. They utilized a no-huddle and moved the ball almost at will. They scored on all four drives (thanks in large part to Adam Vinatieri), leading to a 16-13 halftime lead.
More from Horseshoe Heroes
Then Pagano got cold feet. Three of the Colts next four drives they went three-and-out. Pagano coached like a man with his job on the line in the first half (even going for it on fourth-and-goal) only to get nervous in the second half and dial it back. Not until the Bears took the lead did Pagano open up the offense, only to be rescued by Andrew Luck and T.Y. Hilton…again.
The conservative side of Pagano never wants to fling the ball around. He wants to control the clock, run the ball, impose his will on an opponent and so on. But that isn't how the modern NFL works and it clearly isn't how this offense works.
Rarely, if ever, have the Colts willingly played to their strengths on the offensive side of the ball during the Pagano-era. Only when forced to has the offense looked particularly effective, and Pagano seemed to use the no-huddle early just to appease fans and give the appearance of change.
It is frustrating to watch the film and see a coaching staff that clearly doesn't realize what does and doesn't work. Things the no-huddle can do for the Colts: score points, tire out a defense, and slow down a pass rush. If this team is going to undergo a mid-season renaissance, it starts with a shift in philosophy. But after four plus years on the same flaws, I wouldn't hold my breath. That said, Luck is good enough to cover those flaws and can (and has) carried this team incredibly far.
It wasn't all doom and gloom on Sunday, they did actually win, so let's talk about some of the positives. Here are a few good things that stood out:
12 to 13. Indianapolis has been spoiled with QB-WR tandems over the past 20 years. Peyton Manning to Marvin Harrison. Peyton Manning to Reggie Wayne. Andrew Luck to Reggie Wayne. Reggie Wayne and Trent Cole (wait, no, that's something else). And now fans get Luck and Hilton. Luck has thrown 10 game winning touchdowns, five have gone to Hilton, two of them in this season. There was a lot of talk about Hilton taking that next step in the offseason and looking like a better player, and he's backing it up. He was targeted 11 times Sunday and came away with 10 receptions. There are a few really talented players on the roster that can be built around, and these are obviously the two you start with.
The GOAT. If Vinatieri isn't getting another random drug test, I'd be shocked. Five field goals and a perfect season. He's hit five of his 13 field goals this season from 50 plus yards out, and another five from forty yards out. Keep in mind, he's the oldest player in the NFL. It would be shocking if he didn't end up in the Hall of Fame on his first ballot, and games like Sunday's just add to the monument. If he'd played his whole career in Indy, he'd be getting a statue next to Manning's, assuming Vinatieri ever retires.
Moving on Up. Frank Gore is another player heading to Canton. Sunday, he passed Jim Brown to move into ninth all-time in rushing. Gore doesn't quite have the pop he used to, but he still knows how to salt a game away and get tough yards (even behind a mediocre line). Gore managed 75 yards on just 14 carries, that's a staggering 5.3 yards per carry. He was basically a one man show on Sunday, and the Colts might want to consider this going forward.
The Colts face Houston on the road this week. If they win, they'll be in first place in the AFC South. Some things never change, like the division being awful.