Colts make sweeping cuts to get roster closer to 53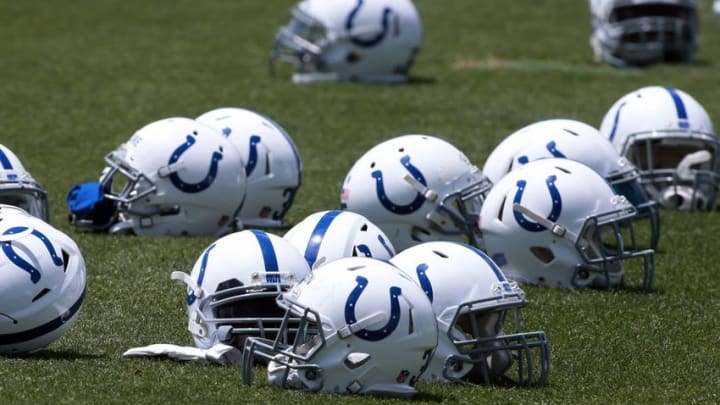 Jun 7, 2016; Indianapolis, IN, USA; Indianapolis Colts lay their helmets on the field as they stretch during mini camp at the Indiana Farm Bureau Center. Mandatory Credit: Brian Spurlock-USA TODAY Sports /
The Indianapolis Colts have until 4:00 PM to get the roster down to 53 players. While most of the players released weren't a surprise, a few stood out.
The Colts released their list of cuts today in one tweet, including a number of players sent to IR. While none of these players will likely be brought back, the Colts will be paying attention to the waiver wire today and looking to add someone at key spots (like cornerback).
Most surprising on this list of cuts is inside linebacker Nate Irving, who seemed to have the inside track on the starting spot next to D'Qwell Jackson. This move seems to show that the Colts value some of the younger players on the roster like Curt Maggitt and Josh McNary (the latter of which was great on special teams this preseason).
The Hugh Thornton experience seems to be over now that he's headed to IR. He is the lone remaining member of a brutal 2013 draft class that has really set this team back. That draft was rough across the NFL, but the Colts desperately needed a few players to stick after the brilliance of 2012's picks.
More from Horseshoe Heroes
Stevan Ridley was cut just days after being picked up by the Colts. After watching the final preseason game, this isn't that big a surprise since Ridley was terrible and averaged just 1.2 yards per carry.
Earl Okine showed flashes at outside linebacker, but is much better as a 4-3 DE which doesn't fit the Colts scheme.
The Colts appear to have opted to keep the players they really like as to ones they might need for a week or two. That said, it will be difficult for a lot of these players to make the field.
Some of the surprise players the Colts kept:
Chase Coffman, mainly because they have four tight ends on the roster right now.
Josh Ferguson, since he struggles in pass protection and is very much a situational running back.
Stephen Morris, with the Colts taking three QBs into the season it seems to say they don't have much confidence in the new offensive line. Or he's there to churn the roster this week and the Colts are hoping to stash him on the practice squad.
You can find the current 53-man roster here.
We'll have updates as the Colts tweak the roster before next weekend's season opener.