NFL Wild Card Predictions from Horseshoe Heroes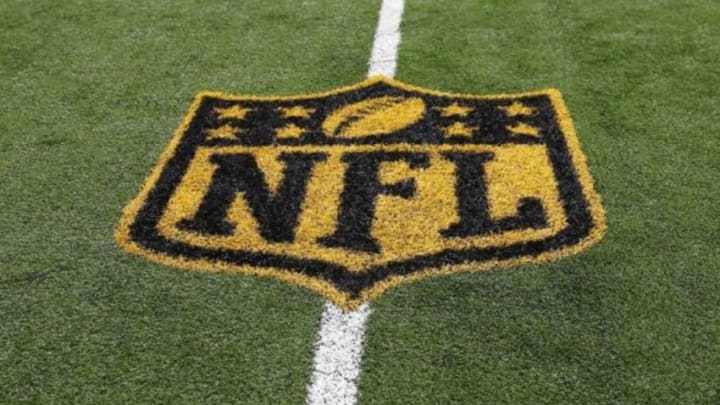 Nov 1, 2015; Arlington, TX, USA; NFL logo after the game between the Dallas Cowboys and Seattle Seahawks at AT&T Stadium. Mandatory Credit: Kevin Jairaj-USA TODAY Sports /
With the Colts out of the playoffs, I thought it'd be fun to predict this weekend's NFL Wild Card match-ups.
NFL playoff time is one of the best times of the year. It's win or go home, and every team has a chance at making a Super Bowl run. This season, our beloved Indianapolis Colts missed the playoffs after a rough season. So, the Houston Texans will be representing the AFC South this season.
The AFC is fairly wide open in terms of a favorite to make the Super Bowl. Denver is the number one seed at 12-4, and our old pals the New England Patriots are limping into the postseason as the two seed. We won't see either of those teams this weekend, as they both have first round byes. That should not take away from the fanfare of AFC Wild Card weekend, because there are two great games on Saturday.
As for the NFC, the Carolina Panthers sit atop the conference with a 15-1 record, and the Arizona Cardinals, led by former Colts assistant Bruce Arians are in the two spot. This weekend's NFC Wild Card games should also be fun to watch, as there is no clear-cut favorite in both games.
It should be a fun weekend full of intense games, and I figured it'd be fun to predict this weekend's games. I think the Colts not being in the playoffs will help me be as impartial as possible when making these picks. Let's get right into it.
#4 Houston Texans v. #5 Kansas City Chiefs
More from Horseshoe Heroes
We as Colts fans know full well what Houston is capable of. They have Brian Hoyer back under center, and whatever they may lack on offense, they make up for on defense. Obviously, there most dangerous defensive weapon is their pass rush, led by J.J. Watt.
However, Kansas City has one of the better offensive lines in the entire NFL, and they could handle Watt's pass rush. The Chiefs are also probably the hottest team in the NFL right now, as they've won ten straight games. Kansas City also counters with a superb defense that is known for causing turnovers.
Houston may be in for tough test, as Kansas City's defense could easily neutralize their offense. On the other side, the offensive line of the Chiefs could take away Houston's ability to rush the passer.
On top of all that, Alex Smith is playing some of the best football of his career, and the Chiefs offense has looked pretty good, despite missing Jamaal Charles.
Prediction: Chiefs 27, Texans 14
#3 Cincinnati Bengals v. #6 Pittsburgh Steelers
It looks as though the Bengals will not get Andy Dalton back in time to take on their division rivals. Keep in mind that Dalton has been historically terrible in his four playoff games anyway. He's thrown just one touchdown compared to eight interceptions.
If I know the Steelers like I think I do, they'll definitely bring the blitz early and often regardless of the quarterback. This could lead to a few mishaps from the Bengals on offense. Also, remember that the Steelers have a fairly potent offense with a trio of stellar receivers.
These two teams split during the regular season, and both have looked shaky the past few weeks. Granted, the Bengals have had A.J. McCarron playing quarterback. The Steelers haven't looked especially great the past two weeks, and both of those games were against awful opponents (Ravens and Browns). That scared me a little.
Prediction: Steelers 24, Bengals 17
#3 Minnesota Vikings v. #6 Seattle Seahawks
When you grow up in the North Dakota/Minnesota area like I did, there are only two types of football fans: Vikings or Packers. How I became a Colts fan out of that, no one will ever know, but that's besides the point. I'm pretty sure every Vikings fan assumes that they will go the Super Bowl this season, and next season when it is played in their new stadium.
We may as well not even play football next year because there's no point, the Vikings are going to win the Super Bowl. If you lived here, you'd understand how frustrating that is, to hear that EVERY SINGLE DAY OF THE WEEK.
Here are the facts: The Seahawks are better than the Vikings, despite the seeding. Minnesota has yet to prove that they can score on a good defense. Seattle is a good defense, and when these two teams played in the regular season, Seattle mopped the floor with the Vikings. In the Vikings home stadium, no less.
As long as the Seahawks limit Adrian Peterson, they will win. I just haven't seen enough from Teddy Bridgewater to believe he can lead a team in the playoffs. He's just not quite there yet.
Prediction: Seahawks 28, Vikings 13
#4 Washington Redskins v. #5 Green Bay Packers
The Packers have struggled mightily over the past few weeks, and this caused them to lose their grip on the NFC North title. I'm sure Packers fans have every excuse in the book to explain the Packers struggles (normally it's the officiating), but maybe, just maybe, the Packers aren't that good. Maybe Aaron Rodgers is stuck behind a terrible offensive line, with no receivers, and a nine months pregnant Eddie Lacy. Have you ever considered that?
Next: Colts Retain Pagano, Now What?
On the other hand, the Redskins are coming into the playoffs on fire, on the heels of Kirk Cousins' stellar play. Washington has a good offensive line, and a solid defense. They could be a big problem for Green Bay, especially with the way they have been playing as of late.
What tips the scale in the Redskins favor in my mind is the fact that Kirk Cousins won me a fantasy football title and $175. Take that Green Bay.
Prediction: Redskins 27, Packers 20
Enjoy the games, and I'll come back next week and predict the Divisional Rounds!