Are the Colts still an enticing destination for free agents and head coaching candidates?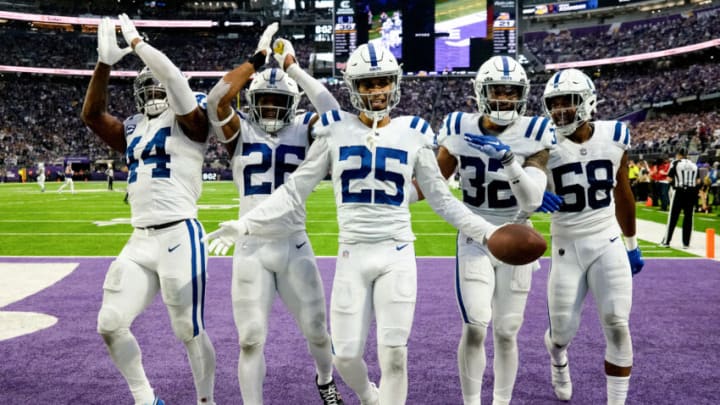 MINNEAPOLIS, MINNESOTA - DECEMBER 17: Rodney Thomas II #25 of the Indianapolis Colts celebrates with teammates after an interception against the Minnesota Vikings during the fourth quarter of the game at U.S. Bank Stadium on December 17, 2022 in Minneapolis, Minnesota. (Photo by Stephen Maturen/Getty Images) /
The Indianapolis Colts will hire a head coach this offseason and try to add some quality free agents, but is Indy even a team people want to join?
Coming off of last season, the Indianapolis Colts looked like one of the most attractive destinations in the league. They were 9-8 and missed the playoffs but they had a league-high seven Pro Bowlers and had a stretch of football where they played like the best team in the league. Although Frank Reich was the coach, it was a roster that many coaches wouldn't have minded inheriting, and the team's future looked like one that free agents would want to be a part of. Is that still the case?
Now that the Colts are actually searching for a coach, is this a dream location for candidates? With Indy needing to address multiple positions, will the team be able to lure big-name free agents? Considering Indy's current standing in the league, the answer is no, the Colts aren't as enticing as they once were.
Colts aren't an ideal destination
There are a couple of things that are still working in Indianapolis' favor. For starters, Indy has several young and talented players under contract. Shaquille Leonard and Jonathan Taylor will be returning from injury next season, and other productive veterans will also be coming back. Additionally, the Colts have a really productive rookie class on both sides of the ball and they should continue to improve. Add all those players with the fact that Indy will potentially have a top-five draft pick and is in the top 10 for cap space this offseason with around $30 million, and Indianapolis does have some benefits.
However, there are also some obvious drawbacks that coaching candidates and free agents will have to consider before joining the Colts. The biggest issue is that Indianapolis doesn't have a quarterback. Indy could get a top quarterback in the 2023 Draft but that's no guarantee. Every coach or big-name free agent isn't ready to deal with the ups and downs of a rookie quarterback, so that could turn some people away. Then there are the players that are already on the roster.
Chris Ballard has done a good job of finding talented players and getting them under contract for multiple years but some of those players are now being questioned. Quenton Nelson just had his worst season as a professional and some fans and experts are concerned that his best days are behind him. The same goes for fellow linemen Ryan Kelly and Braden Smith. With Jonathan Taylor and Michael Pittman Jr. entering the final season of their rookie deals, the Colts will be facing some major financial decisions.
On the defensive side of the ball, Kenny Moore will be entering the final year of his contract and he has already expressed his desire for new money. Will he be a part of Indy's future? Then there's Shaquille Leonard, Indy's leader. Leonard is the best linebacker in the league when healthy but he's coming off a year where he only played 74 snaps over three games and had two back surgeries. Any coach that's coming to Indy will certainly have questions about his health moving forward.
Then, there's the biggest factor of all, team owner Jim Irsay. Irsay has been publicly growing tired of his team's mediocrity and that has led to him inserting himself more into every decision-making process within the franchise. Every coach isn't willing to sign up to work with a super-involved team owner. Irsay's perceived involvement could affect what candidates are available for the team to hire.
All in all, the Colts could be an offseason away from being a competitive team again, but that all depends on if they can land the right difference-making pieces. In order for that to happen, those pieces have to look past Indy's flaws and believe they can help get things figured out in Indianapolis.