The Commanders continue to troll the Colts a week after beating them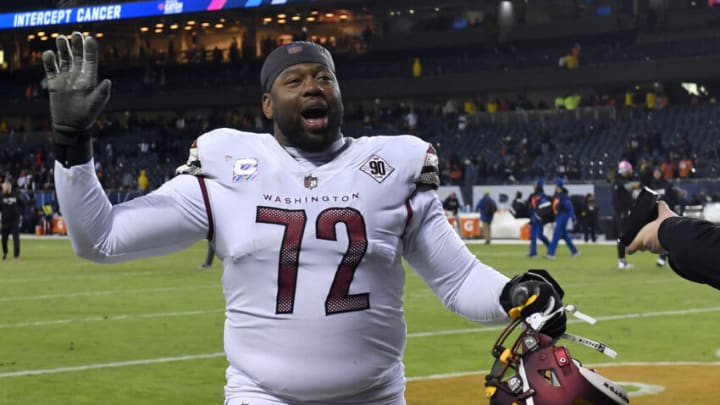 CHICAGO, ILLINOIS - OCTOBER 13: Charles Leno Jr. #72 of the Washington Commanders reacts after beating the Chicago Bears 12-7 at Soldier Field on October 13, 2022 in Chicago, Illinois. (Photo by Quinn Harris/Getty Images) /
A week after beating the Indianapolis Colts, the Washington Commanders continue to throw jabs at Indy about the Week 8 game.
On Sunday, the Indianapolis Colts lost to the New England Patriots and the Washington Commanders also lost to the Minnesota Vikings. However, Washington losing didn't stop the Commanders from talking trash about the team they beat a week prior to Sunday, the Colts. In Week 8, the Commanders traveled to Indianapolis and pulled off a late-game victory over Indy and they haven't forgotten about it.
Following Washington's loss to the Vikings, Commanders' left tackle, Charles Leno, told the media, "Now I know what the Colts felt like." In addition to rubbing the Week 8 win in, Leno said this because Washington had a late lead over the Vikings before Minnesota came back and ultimately snatched the game away from Washington similar to how the Commanders did the Colts a week prior.
In Leno's moment of defeat, he stepped on Indianapolis for a sense of comedic relief, continuing to make Indy the laughingstock of the NFL this season.
Charles Leno jokes about Commanders' win over Colts
Although Washington has bragging rights over Indianapolis, its standing in the NFL isn't much better than Indy's. While the Colts are 3-5-1 after nine weeks, the Commanders are just 4-5. However, Washington is the worst team in a solid NFC East division and Indy is currently the second-best team, in the standings, of a pretty bad AFC South.
Either way you look at it, both the Commanders and Colts have a long season ahead of them that will likely be filled with even more losses, forcing them into an offseason of change and many moves. While neither team is likely going to the playoffs, Indy will be keeping an eye on Washington to see if Carson Wentz will return from injury to rejoin the starting lineup because one of the team's draft picks can be elevated from a third-round pick to a second, if Wentz plays 70% of the offensive snaps.
Ultimately, both of these teams are rolling downhill and will have a disappointing season, but hey, the Washington Commanders can say one of their few wins was against Indianapolis.