Colts have the perfect opportunity to get their run game rolling against the Titans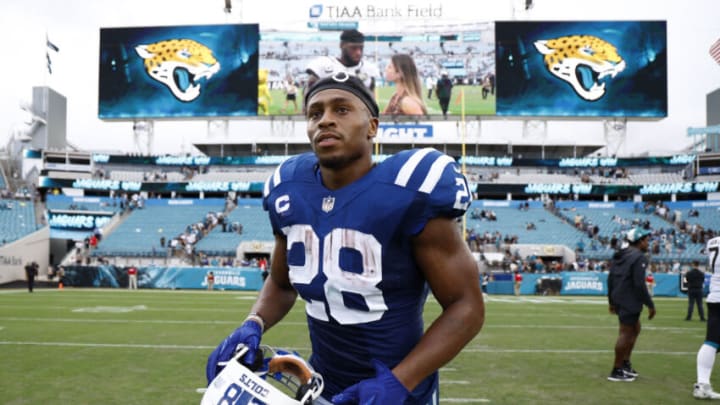 Sep 18, 2022; Jacksonville, Florida, USA; Indianapolis Colts running back Jonathan Taylor (28) runs off the field after the Indianapolis Colts are defeated by the Jacksonville Jaguars at TIAA Bank Field. Mandatory Credit: Douglas DeFelice-USA TODAY Sports /
The Indianapolis Colts haven't really got Jonathan Taylor rolling yet but that could change on Sunday against the Tennessee Titans.
The offense for the Indianapolis Colts is at its best when it's playing behind the run. When Jonathan Taylor is running for chunks of yards with some occasional long touchdowns sprinkled in, Indy is able to consistently put up points. Through the first three games, Taylor hasn't been able to get going and that's why the Colts have the worst scoring offense in the NFL at 13.3 points a game.
In Week 1, Taylor ran for 161 yards against the Houston Texans. The majority of those yards were late in the second half when Indy was making its comeback. It's no coincidence that Indianapolis begin scoring points in that game once Taylor was able to make big runs.
In Week 2, Jonathan Taylor had just nine carries for 54 yards and the Colts were shut out. Against the Chiefs in Week 3, Taylor had 21 carries for just 71 yards and Indy's offense struggled for most of the game. However, with a couple of good drives and fortuitous plays, Indy won the game.
If Indy can't consistently get Taylor near the century mark, the offense will continue to struggle and the Colts will lose a lot of games. Fortunately, Indy is playing the perfect opponent in Week 4, the Tennessee Titans, to help get their rushing attack activated.
Struggling Titans defense should help awake Colts run game
Tennessee has its own quality rushing attack but what it doesn't have is a good run defense. Through the first three games, the Titans are allowing 145 rushing yards a game. That's 29th in the NFL. They're allowing 256 passing yards per game as well, which is 24th in the league, so Tennessee's defense has just been struggling.
The Titans allowed the New York Giants to run for 238 yards, the Buffalo Bills to rush for 101 yards, and the Las Vegas Raiders to reach 96 rushing yards. For a Colts team that likes to run the ball, they should be looking at this game as an opportunity to build a rhythm with the run game that can carry them throughout the season.
If Indianapolis gets Jonathan Taylor rolling on Sunday, the team will also probably do a better job of passing the ball and we may see the most productive offensive day out of the Colts yet. If that's the case, Indy should definitely be able to knock off the Titans.