Indianapolis Colts roster cuts tracker ahead of 53-man deadline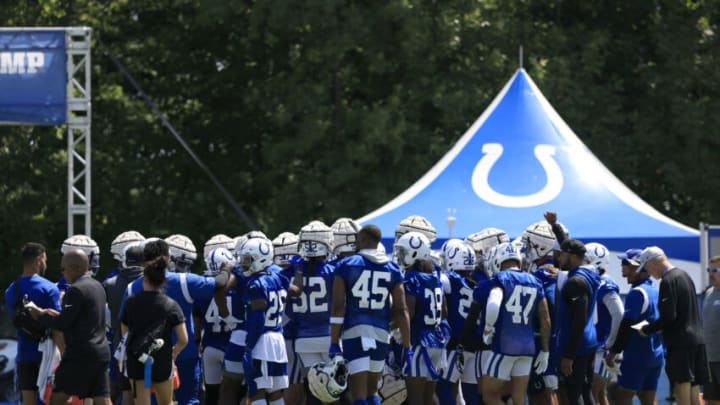 WESTFIELD, INDIANA - JULY 28: The Indianapolis Colts defense huddles up during training camp on July 28, 2022 at Grand Park Sports Campus in Westfield, Indiana. (Photo by Justin Casterline/Getty Images) /
A tracker for all the cuts made by the Indianapolis Colts as they trim their roster down to just 53 players for the Tuesday deadline.
With training camp and the preseason now over, the Indianapolis Colts and every other team must trim their rosters from 80 players to 53 by the deadline of 4:00 pm ET on Tuesday, August 30. The final 53-man roster will be the active roster that teams carry into the regular season.
For the players released, it doesn't necessarily mean the end of their NFL careers, or that they're officially done with the team that released them. Waived players, players who have been in the NFL for less than four years, could either be claimed on waivers by other franchises or they could clear waivers and sign with any team or possibly return to the practice squad of the team that released them.
The Colts have already begun making several cuts including a surprising release of veteran running back Phillip Lindsay. Below is a tracker for all the moves Indy makes as the team works to reach the 53-man limit.
Indianapolis Colts roster cuts tracker
RB Phillip Lindsay – A surprising move since Lindsay was RB3 all offseason.
QB Jack Coan – The undrafted quarterback from Notre Dame was QB4 throughout camp.
LB Forrest Rhyne – Rhyne had a really promising camp and the team hopes to add him back to the practice squad.
CB Anthony Chesley – With a loaded young secondary, Chesley didn't break through for Indy.
OT Ryan Van Demark – An undrafted player that had a lot of interest and will probably quickly find a new team.
RB D'Vonte Price – An undrafted running back that was fighting an uphill battle in a crowded room.
DT RJ McIntosh – A veteran defensive lineman that's been trying to find his way in the NFL.
G Josh Seltzner – An undrafted rookie that has a chance to return to Indy on the practice squad.
OT Jordan Murray – Murray joined the Colts earlier this offseason after a year in the CFL.
TE Nikola Kalinic – Kalinic is a tight end from Canada that played in the CFL before joining the Colts.
RB Ty'Son Williams – With Deon Jackson expected to be the third running back, Williams may return to the practice squad.
TE Michael Jacobson – After playing basketball in college, Jacobson has been trying to find his was as a football player.
DT Curtis Brooks – Indy's sixth round pick from the 2022 Draft.
DE Kameron Cline
DB Marcel Dabo
WR Ethan Fernea
WR DeMichael Harris
WR Samson Nacua
LB James Skalski
CB Marvell Tell III
LB Sterling Weatherford – Weatherford was one of Indy's most promising undrafted players and the team has to hope he clears waivers.
CB Chris Wilcox
DT Chris Williams
OT Dennis Kelly – Kelly was signed earlier in the offseason but missed a lot of camp with a knee injury.
WR Keke Coutee – Coutee joined Indy in 2021 but couldn't stick on as a receiver or returner.
LB Brandon King
S Will Redmond