3 Colts whose stock has risen during training camp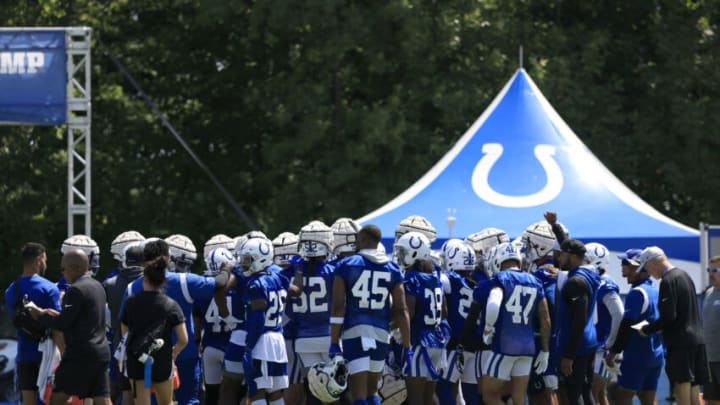 WESTFIELD, INDIANA - JULY 28: The Indianapolis Colts defense huddles up during training camp on July 28, 2022 at Grand Park Sports Campus in Westfield, Indiana. (Photo by Justin Casterline/Getty Images) /
The Indianapolis Colts have had a number of impressive training camp performances from players who need to step up this year.
When the Indianapolis Colts returned for training camp, they did so with a lot of excitement and expectation. Indy made several difference-making moves this offseason, and the team has a lot of star power. If everything falls into place, this is a team that can be in the mix for a championship.
While it is expected for all the stars to show up and produce this season, the Colts know they need some contributions from less established players. So far in training camp, Indianapolis has been getting that.
Several players that aren't considered stars, or even guaranteed starters, have been stepping up and routinely making plays in camp. If these players continue to make plays throughout the preseason, they will become players that the Colts can rely on in the regular season.
Let's take a look at 3 players in Indianapolis that have boosted their stock during training camp.
3. Cornerback Brandon Facyson
Brandon Facyson was one of Indy's offseason signings that didn't get a lot of love. He's played corner for Gus Bradley with the Chargers and the Las Vegas Raiders, mostly as a reserve, so many assumed Bradley brought him to Indy as a trustworthy depth piece.
Entering camp, it was believed that he would battle with Isaiah Rodgers for the cornerback spot opposite Stephon Gilmore, and while that battle is still ongoing, it seems that Facyson is currently leading the competition. Both Rodgers and Facyson have been having quality camps but it is Brandon Facyson that is taking snaps with the ones.
Rodgers has made the bigger highlight plays, recording multiple interceptions, but Facyson has been making the silent good plays. There have been reports of him playing solid defense and batting down balls, protecting his side of the field. While not the flashiest of plays, it's what you want from a corner.
Facsyon may ultimately end up earning the starting job but he and Rodgers should both see a lot of time. With the passing offenses in the NFL, a defense can never have too many corners on the field. Fortunately for the Colts, they have multiple quality corners.