Bleacher Report is predicting an impressive record for Colts in 2022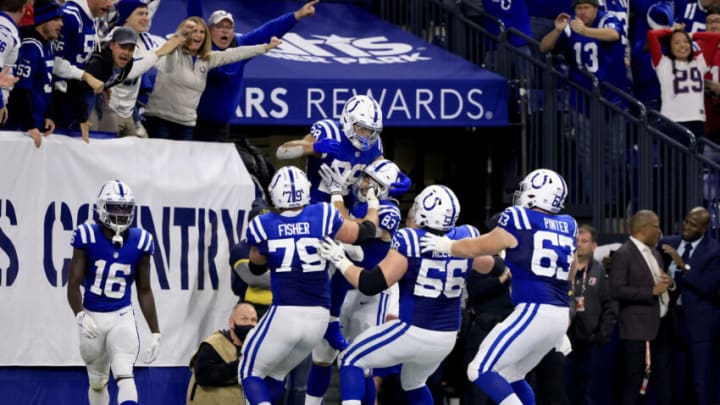 INDIANAPOLIS, INDIANA - DECEMBER 18: Jonathan Taylor #28 of the Indianapolis Colts celebrates his touchdown with teammates during the fourth quarter against the New England Patriots at Lucas Oil Stadium on December 18, 2021 in Indianapolis, Indiana. (Photo by Justin Casterline/Getty Images) /
The Indianapolis Colts have a promising roster entering this NFL season and Bleacher Report believes it will reflect in their record.
Last season, the Indianapolis Colts got off to a horrible start and finished the year with one of the worst losses in franchise history. Even still, they had a 9-8 record and a chance to make the playoffs. However, close wasn't good enough.
Indianapolis was frustrated with the way last season ended and the team was hard at work this offseason to make sure the next season would be better. They made a quarterback change by bringing in Matt Ryan, and also added other Pro Bowl players in Yannick Ngakoue and Stephon Gilmore.
With these new players, and all the talent returning, the Colts are expected to be a much better team this season. Internally, the goal is to win the AFC South for the first time since 2014 and also to contend for a Super Bowl. While this is what Indianapolis should think it is capable of, the team isn't alone in that belief.
Many people that cover the league also feel that Indy is capable of being a dominant team next season. Recently, Ian Wharton from Bleacher Report predicted next season's record for each NFL team. For the Colts, Wharton predicted they would finish the regular season at 12-5.
Colts are predicted to finish 12-5
The predicted 12-5 record has Indianapolis atop the AFC South and as one of the top teams in the AFC. Last season, the Tennessee Titans were the No. 1 seed in the AFC with a 12-5 record, so that shows the potential the Colts have.
Why is Wharton so high on Indianapolis? Well, why Wharton does believe that Indy is a well-coached team with a talented roster, Wharton also acknowledges that the AFC South is one of the weaker divisions in the NFL.
With a combined six games against the Houston Texans, Jacksonville Jaguars, and Titans, the Colts are in a perfect position to stack wins if they can just win the games they are supposed to. That wasn't something Indy was able to do last season and it ultimately cost them a playoff spot. This year should be different.