Colts make the top 10 of ESPN's future power rankings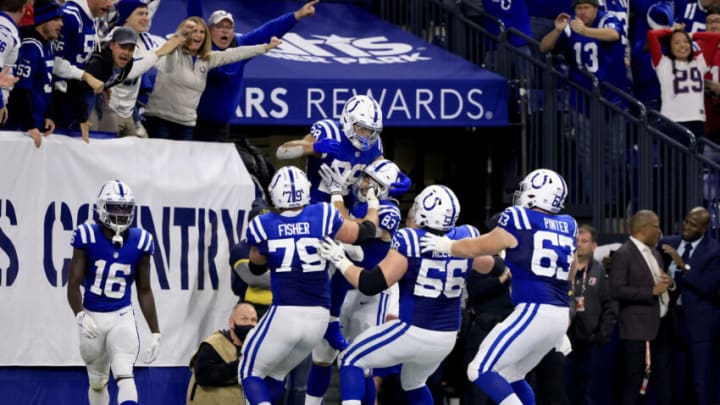 INDIANAPOLIS, INDIANA - DECEMBER 18: Jonathan Taylor #28 of the Indianapolis Colts celebrates his touchdown with teammates during the fourth quarter against the New England Patriots at Lucas Oil Stadium on December 18, 2021 in Indianapolis, Indiana. (Photo by Justin Casterline/Getty Images) /
In a projection of future NFL power rankings by ESPN, the young and talented Indianapolis Colts were voted into the top 10.
Sometimes in sports, it's impossible to live in the moment. While the present is often exciting, the intrigue of the future is even more exciting. That's why fans and the media are always thinking about projections and making predictions about what will take place in the future.
That's what ESPN did in a recent article looking at future power rankings. Power rankings are always used to rank the best current teams but ESPN wanted to create a projected ranking for the next three years. To do that, four of ESPN's experts were asked to grade every team in five categories.
The categories were quarterback situation, non-QB roster, drafting ability, front office, and coaching. Each team's overall grade was then determined by averaging the scores with certain categories holding more weight than others.
In the end, the Indianapolis Colts were the ninth-ranked team with an overall score of 82.8. Indy had the highest rank in the AFC South and was the sixth-ranked team in the AFC as a whole.
Colts ranked No. 9 in future power rankings
In the non-QB roster category, Indy was ranked No. 13 in the league while its quarterback situation was ranked No. 16. Coaching was ranked at No. 10 and the Draft was ranked at No. 4, the same ranking as the front office. That means most of the heavy lifting for the Colts ranking was done by the groups off the field.
That was explained as Field Yates wrote, "Indianapolis has strong leadership in GM Chris Ballard and head coach Frank Reich." However, there was some concern about the ability to keep this team healthy and performing. Louis Riddick argued that if certain key players like Stephon Gilmore and Julian Blackmon go down, then Indy could be in trouble.
Injuries are always a concern for any sports team, but overall, the Colts are in pretty good shape being ranked No. 9. They are already loaded with stars and the majority of the team is really young and under contract for a few more years. This means Indianapolis is in the perfect position to challenge for a Super Bowl, or two, over the next few seasons.