Where do execs, coaches, and players rank Darius Leonard among linebackers?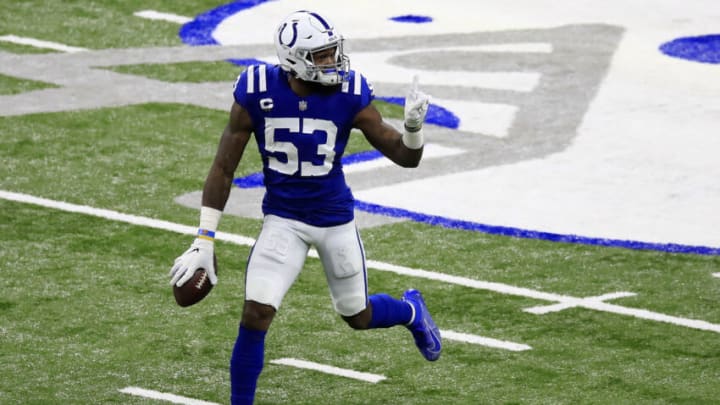 Darius Leonard. (Photo by Andy Lyons/Getty Images) /
An ESPN poll of NFL executives, coaches, and players shows how the league views Indianapolis Colts linebacker Darius Leonard.
Just about every day on social media, fans are debating who's the best linebacker in football. Not the edge-rushing guys, but the off-ball linebackers. A frequent conversation with passionate fans that seemingly never comes to a conclusion.
Fans for the Indianapolis Colts always submit their case for the Turnover King Darius Leonard. They're usually met with pushback from fans lobbying for the San Francisco 49ers' Fred Warner or the Dallas Cowboys' Micah Parsons. However, fans are usually stubborn, and a bit biased, so they rarely move from their original stances, no matter the evidence presented.
But what about the people closest to the players? The people that have to play against or alongside these linebackers or scheme for them weekly, who do they think is the best off-ball linebacker? That's what Jeremy Fowler from ESPN strives to answer every offseason.
For the third year, Fowler and ESPN polled more than 50 NFL executives, coaches, and players, and asked them to rank the top 10 players at every position. The votes are then tallied up and ESPN also gets quotes on why people voted how they did.
For off-ball linebackers, Darius Leonard was ranked at No. 1 entering the 2022 season. The lowest ranking he received on any ballot was No. 6, but the majority of votes had him as the top linebacker, rightfully. This is a three-spot improvement from last year's ranking of No. 4.
https://twitter.com/colts/status/1545088503351955457?s=21&t=kOxVZqgdblwE9XsUzeD98g
Darius Leonard ranked as the No. 1 linebacker in the NFL
Trailed by Leonard was Parsons at No. 2 and Warner at No. 3, and that was as expected after reading the way the voters judge linebacker player. Fowler said, "What matters most to league execs, coaches, scouts and players when evaluating the NFL's top linebackers is how they affect game plans — and how often they create turnovers." Nobody in the NFL does that better than The Maniac.
Last season, Darius Leonard forced a league-high eight forced fumbles, recovered three, and also had four interceptions. One AFC executive was quoted saying, "He can flip the game at any moment. That worries you more as an opponent than a traditional linebacker because he gets his hands on the ball all of the time."
That's the argument that Leonard has been making as he frequently demands more respect and the same argument that Colts fans use when they're making their case for Leonard as the best linebacker.
Darius Leonard does all the other things it takes to be a good linebacker well, but his ability to create turnovers is head and shoulders above all of his peers, and that's why he's the best off-ball linebacker in football.