PFF explains how Colts can exceed expectations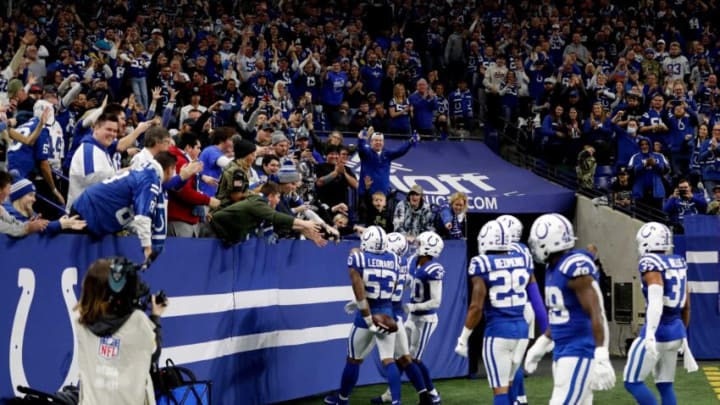 Indianapolis Colts outside linebacker Darius Leonard (53) and teammates celebrate with fans after Leonard's interception Sunday, Jan. 2, 2022, during a game against the Las Vegas Raiders at Lucas Oil Stadium in Indianapolis. /
The Indianapolis Colts are currently considered fringe contenders but PFF believes there's a formula Indy could follow to exceed expectations.
Last season, the Indianapolis Colts were able to temporarily become a dominant team after starting the season slowly. In the midst of mid-season dominance, many felt that Indy was a lock for the postseason and would be an incredibly tough team to beat. However, the Colts collapsed down the stretch and missed the playoffs.
During this offseason, Indy identified all the things that went wrong and worked their best to address them. The Colts have a new quarterback in Matt Ryan, a couple of new young pass-catchers, and some additional Pro Bowl defenders. The goal now is not to only be better than last season, but to be real contenders.
However, Indy is generally considered a fringe contender right now. They aren't with the elite of the NFL world, the top teams expected to compete for a Super Bowl, but they also aren't towards the bottom with the teams already eyeing the top draft prospects.
In a recent piece from PFF, Kambui Bomani looks at five teams that are being overlooked and explains why they are underrated, and also explains how these teams can exceed expectations.
Bomani listed the Colts as one of these teams and argues that they are underrated because of the question marks on offense. However, Bomani also makes the case that Indy can overachieve because of its defense.
Colts will need a dominant defense to exceed expectations
Bomani makes the argument that Matt Ryan will take time to get fully accustomed to the new system, and that things could be even more difficult since Indy has a mediocre (until proven otherwise) wide receiver unit.
However, on the other side of the ball, there's a star everywhere you look. With Yannick Ngakoue and DeForest Buckner up front, Darius Leonard in the middle, and Stephon Gilmore and Kenny Moore in the secondary, Indy has the potential to field a dangerous defense.
The Colts also have some emerging talents in Kwity Paye, Bobby Okereke, Julian Blackmon, and Isaiah Rodgers. So Bomani makes a really great point, this defense has the potential to carry what could be a struggling offense at times.
Hopefully, they're never asked to do that. Indy does still have Jonathan Taylor and a great run-blocking offensive line, so the offense can lean on that as the passing game works itself out. If the glowing Matt Ryan reports continue into the season, Indy could have a complete offense.
If that's the case, the Colts could shatter expectations. A dominant defense and run game are enough to make noise but if a timely passing game is added into that mix, Indy will be dangerous.