Can Colts win the Super Bowl as currently constructed?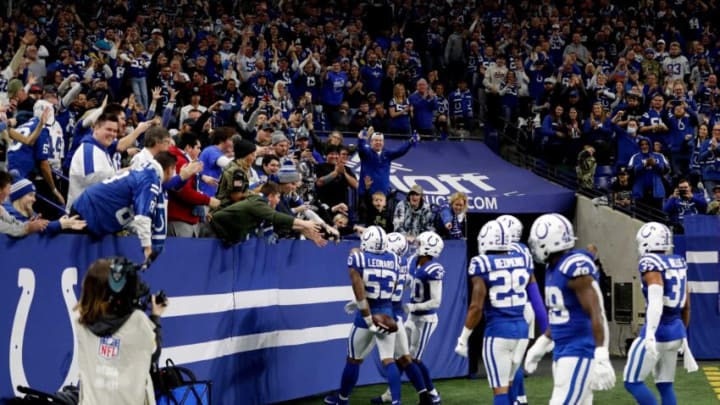 Indianapolis Colts outside linebacker Darius Leonard (53) and teammates celebrate with fans after Leonard's interception Sunday, Jan. 2, 2022, during a game against the Las Vegas Raiders at Lucas Oil Stadium in Indianapolis. /
The Indianapolis Colts have a pretty good roster and Super Bowl aspirations, but can they win it all if they don't add any more pieces?
With OTAs started, the Indianapolis Colts are getting the first look at the team they've put together this offseason. Indy has added a new quarterback, several new defenders, and added some very talented rookies, headlined by the franchise's top-overall pick Alec Pierce. All these additions should help the Colts return to the playoffs and make a serious run for the Super Bowl.
However, sometimes rosters can look better on paper than they do in reality. Whether or not that's the case with this Indianapolis team remains to be seen. Indy is only a few days into OTAs so there is much evaluating to do.
Depending on those evaluations, the Colts will decide if they need to make more moves or not. There are still some available free agents and also players that Indy can target in trades.
But what if the Colts don't make another move for the rest of the year? Obviously, they'll have to cut players to finalize the roster but what if they're done adding players? Does Indy have all the necessary pieces to win a Super Bowl?
https://twitter.com/coltsmilitia_/status/1522354073931968513?s=21&t=gSgT9I88e4BDLx7qBaPcjg
Can Colts win Super Bowl without any more moves?
If Indy goes into the season with just players that are currently on the roster, there would be quite a few teams favored over Indianapolis to win it all but the Colts would still have a realistic chance.
For starters, Indianapolis is probably the best team in the AFC South as things currently stand. Winning the division gives a team an automatic bid to the playoffs and that's half the battle.
Once a team like the Colts is in the playoffs, anything could happen.   However, Indy could win without getting lucky, it actually has a formula to be a successful postseason team.
The Colts have an established dominant run game and the pieces for what should be an elite defense. With Matt Ryan on the roster, Indy also has a veteran quarterback that can step up when necessary.
Those three things combined should give Indianapolis a path to win games and possibly a Super Bowl. While it rarely hurts to keep adding quality pieces, Indianapolis is set up to make noise with the players currently on the roster.