Colts will have four primetime games in the 2022 season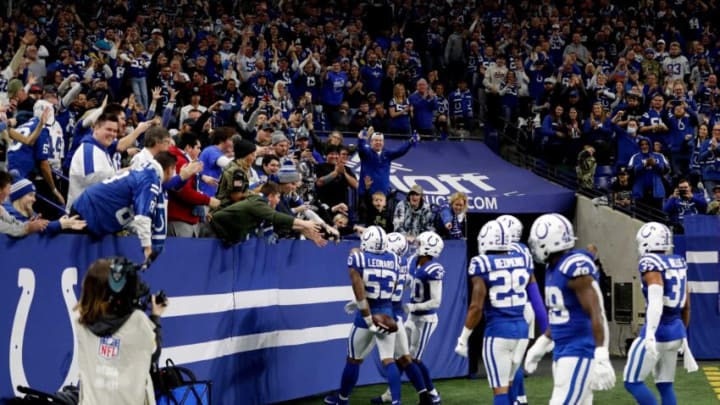 Indianapolis Colts outside linebacker Darius Leonard (53) and teammates celebrate with fans after Leonard's interception Sunday, Jan. 2, 2022, during a game against the Las Vegas Raiders at Lucas Oil Stadium in Indianapolis. /
The NFL's release of the 2022 schedule revealed that the Indianapolis Colts will play in front of a national audience four times.
The Indianapolis Colts narrowly missed the playoffs last season but they're projected to be a contending team with a lot of star power. As a result, Indy will have four primetime games during the 2022 season.
That's one less than the number of primetime games the Colts played last season, however, four were initially scheduled for 2021 but the Patriots game was eventually flexed to a Saturday night.
Additionally, Indy will play two primetime games on the road and two at home.
Not hosting enough primetime games has been a point of frustration for team owner Jim Irsay and the organization but their wishes have been answered and fans will have multiple opportunities to attend primetime football in Indianapolis.
What primetime games do the Colts have?
Indy's first primetime matchup will be in Week 5 on the road against the Denver Broncos for Thursday Night Football. Matt Ryan and the squad will take on the Russell Wilson-led AFC West team.
Indy's next primetime game won't be until Week 12 but it will be at home against the Pittsburgh Steelers on Monday Night Football.
That will be the first of two consecutive primetime games as the Colts travel to Jerry's World in Week 13 to play the Dallas Cowboys on Sunday Night Football.
Indy's final primetime matchup of the regular season will be another home game for Monday Night Football against the Los Angeles Chargers.
Last year in the five primetime matchups, Indianapolis was 4-1, with their only loss coming in an overtime game against the Baltimore Ravens.
The Colts were victorious over the New York Jets, as well as three playoff teams: the San Francisco 49ers, New England Patriots, and Arizona Cardinals.
Indianapolis is hoping to replicate this dominance in primetime games and be better in the other parts of the schedule as well. The Colts have major goals for next season and they will have their opportunity in front of national audiences to prove themselves.