Colts 2022 schedule release date, full list of opponents, more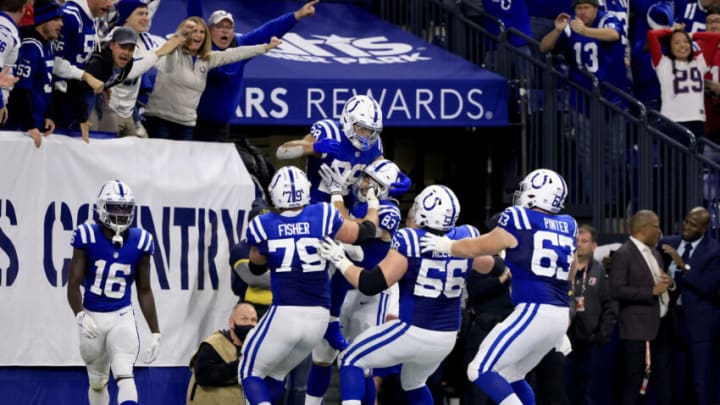 INDIANAPOLIS, INDIANA - DECEMBER 18: Jonathan Taylor #28 of the Indianapolis Colts celebrates his touchdown with teammates during the fourth quarter against the New England Patriots at Lucas Oil Stadium on December 18, 2021 in Indianapolis, Indiana. (Photo by Justin Casterline/Getty Images) /
The official schedule for the Indianapolis Colts will be finalized when the NFL releases the 2022 schedule on Thursday night.
With the free agency frenzy and the NFL Draft in the past, the next major event for the NFL world is the schedule release. The NFL will broadcast a special, letting everyone know when each game will be played.
For the Indianapolis Colts, the 2022 season should be a big year. The team that had the most Pro Bowlers last season added even more firepower and is ready to contend for a championship.
Considering Indy's status, the team should be playing in a few big primetime games this season. The official release will let everyone know how many exactly.
When is the Colts' 2022 regular season schedule release?
The schedule for the entire league will be released Thursday, May 12, at 8 pm ET during a three-hour special on NFL Network. There will also be a broadcast on ESPN2.
Which teams do the Colts play at home in 2022?
Houston Texans
Jacksonville Jaguars
Tennessee Titans
Kansas City Chiefs
Los Angeles Chargers
Philadelphia Eagles
Washington Commanders
Pittsburgh Steelers
 Which teams do the Colts play on the road in 2022?
Houston Texans
Jacksonville Jaguars
Tennessee Titans
Denver Broncos
Las Vegas Raiders
Dallas Cowboys
New York Giants
New England Patriots
Minnesota Vikings
With the regular season now at 17 games, teams no longer will have eight home and eight away games. Instead, every team will alternate between eight and nine home games.
This season, Indianapolis will play nine road games after only playing eight last season. Division teams aside, Indy has some intriguing road matchups.
Indy will travel to Las Vegas and play a tough Raiders team that beat them last season in a nail-biter. The Colts will also travel to Jerry's World and take on a talented Cowboys team.
However, no road game will be bigger than the rivalry contest in Foxborough against the Patriots.
At home, Indy will welcome some explosive offenses like the Chiefs and Chargers and they will also have the return of Carson Wentz with Washington.
Overall, there are a lot of good opponents on the schedule for the Colts and Indy will have to dominate them if they want to have the type of season many believe they can.