Will Alec Pierce bring Andrew Luck's number back to Colts?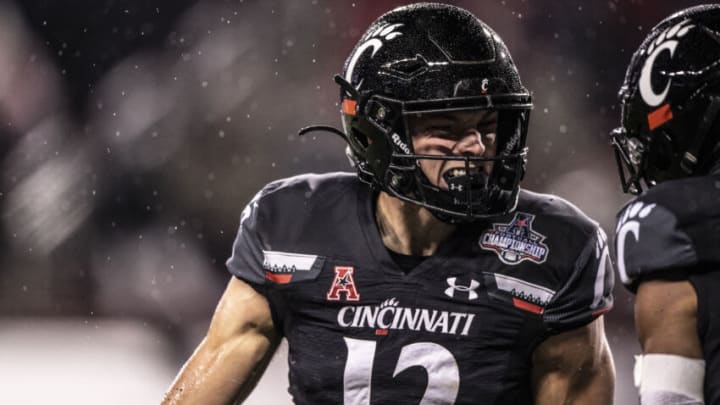 CINCINNATI, OH - DECEMBER 19: Alec Pierce #12 of the Cincinnati Bearcats reacts during the American Athletic Conference football championship at Nippert Stadium on December 19, 2020 in Cincinnati, Ohio. (Photo by Benjamin Solomon/Getty Images) /
Indianapolis Colts second-rounder Alec Pierce, a big-bodied wide receiver out of Cincinnati, seems poised to make an immediate impact in Indy despite Michael Pittman Jr. possessing the X role he's gotten used to in a college offense.
Unfortunately, the loudest remaining question regarding Pierce has to do with his jersey: is he planning to rock the No. 12, as he did with the Bearcats? If so, does anyone plan on stopping him?
And does he still have to pay Andrew Luck for the right to wear his old digits, despite the fact that Luck is nowhere near the locker room?
For better or worse, some Colts fans still maintain a complex relationship with Luck, the post-Peyton Manning savior who led a smooth transition for the franchise, then stopped on a dime and left the sidelines, ushering in patchwork veteran after patchwork veteran with the expensive trades to match.
According to the overwhelming sentiment we're seeing, it's time for fans to move past their old allegiances and embrace Pierce's likely choice to wear his familiar number.
Colts' Alec Pierce should be allowed to wear Andrew Luck's No. 12
Oh, yeah, and there's also one small additional piece of this: Luck's number has been somewhat silently in circulation following his retirement already.
Undrafted rookie wide receiver/return specialist DeMichael Harris has actually been wearing the number since 2020.
A thinly-veiled shot at Luck? Hardly. 2020 was such a chaotic year that 12 was actually the only number available to Harris after he joined the team following the draft.
Harris is still on a reserve/future contract, so if Pierce actually wants to relive his collegiate glory in the pros, he'll actually have to negotiate with the speedster instead of knock on Luck's door and beg for a public statement.
Something tells us Harris will acquiesce to the request, as long as there's another jersey available these days.