Will turnover on Colts offensive line affect Jonathan Taylor and the run game?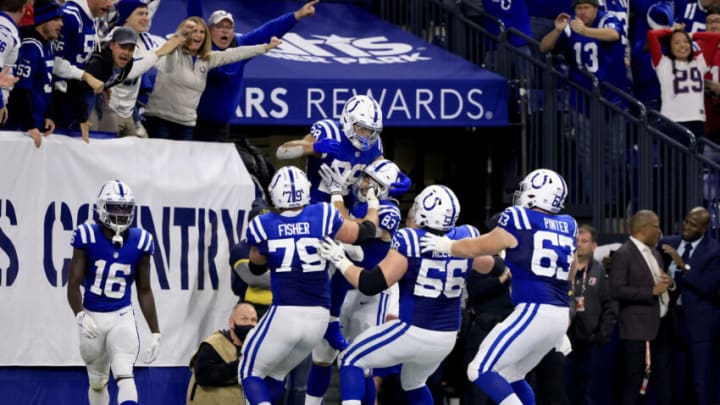 INDIANAPOLIS, INDIANA - DECEMBER 18: Jonathan Taylor #28 of the Indianapolis Colts celebrates his touchdown with teammates during the fourth quarter against the New England Patriots at Lucas Oil Stadium on December 18, 2021 in Indianapolis, Indiana. (Photo by Justin Casterline/Getty Images) /
The Indianapolis Colts have lost several offensive linemen this offseason and that may affect the team's best player, Jonathan Taylor.
Last season, the Indianapolis Colts' offense exploded behind second-year running back Jonathan Taylor. Taylor established himself as the best running back in the NFL and carried Indy's offense last year.
However, as special as Taylor is, what he did last season wasn't because of him and him alone. Taylor had the privilege of playing with one of the best offensive lines in football.
It was a group that had two Pro Bowlers, including the perennial All-Pro, Quenton Nelson. Nelson led a physical group that was elite at carving lanes for Taylor. Unfortunately, that group will look pretty different next season after a few linemen have left Indianapolis in free agency.
Mark Glowinski, the starting right guard last year, signed a three-year deal with the New York Giants. Backup guard, Chris Reed, recently signed with the Minnesota Vikings.
There's also Eric Fisher, who struggled in pass protection last season but thrived as a run blocker. Fisher and Indianapolis were unable to work out a deal to return and he is currently a free agent.
With the changes up front, it's fair to ask, can Indianapolis replicate the run-game success from last season?
Will the Colts' run game regress with new offensive line?
The good thing is, that Nelson, Ryan Kelly, and Braden Smith are returning. The three of them have been incredibly consistent and will lead the revamped offensive line next season.
However, losing Glowinski and the run-blocker that Fisher was is going to be tough for Indy to navigate. Glowinski was a durable lineman that consistently delivered during his time with the Colts and that's why many felt Indy couldn't afford to lose him.
However, Matt Pryor and Danny Pinter, Fisher and Glowinski's projected replacements, have looked good in their appearances for Indianapolis. They should be able to help the run game stay dominant but the overall depth of Indy's O-line has taken a hit.
Chris Ballard will be tasked with rebuilding the depth through the draft and free agency but Indianapolis' starting offensive line should be in decent shape to run the ball next season.
Is it likely that Taylor runs for another 1,811 yards and 18 touchdowns? Probably not. That was unlikely to happen even if all starters returned because it's hard to reproduce such great years.
Even if overall production dips, Taylor and the Colts should still be able to run the ball at an elite level next season and help Indy's offense climb higher.