Colts may play an international game in 2022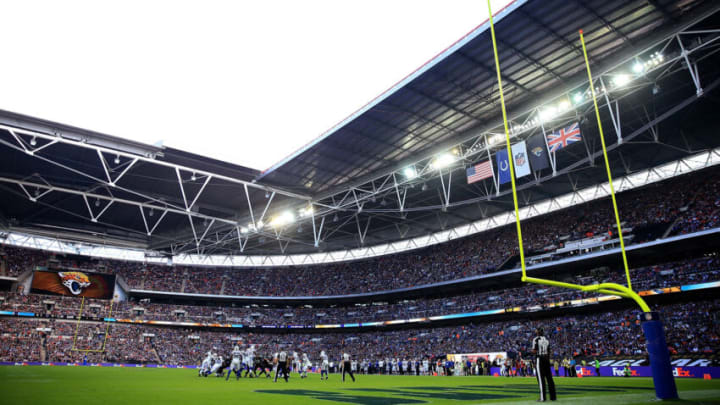 LONDON, ENGLAND - OCTOBER 02: A general view during the NFL International Series match between Indianapolis Colts and Jacksonville Jaguars at Wembley Stadium on October 2, 2016 in London, England. (Photo by Ben Hoskins/Getty Images) /
The NFL announced the teams that will be hosting international games and the Indianapolis Colts may be a potential opponent.
In an effort to expand the NFL's popularity on the world stage and cater to fans from other countries, the NFL is continuing international games next season.
Monday morning, the league announced three countries that will host games next season along with five teams that will represent the home team for the games.
The teams and locations were the Arizona Cardinals hosting a game in Mexico City, the Tampa Bay Buccaneers hosting a game in Munich, Germany, and the Green Bay Packers, New Orleans Saints, and Jacksonville Jaguars all hosting games in London.
The opponents for these games haven't been announced, but since the Indianapolis Colts play the Jaguars on the road, it's possible they could be going to London.
Colts may play Jaguars in London in 2022 season
Jacksonville will be hosting a game in Wembley Stadium and it will be their ninth game in England, the most in the NFL. One of the other visits was in 2016 when the Jaguars hosted the Colts in Wembley Stadium.
Jacksonville defeated Indianapolis 30-27. Six years later, the Colts may have the option to return to the same stadium and avenge that loss.
Regardless of where the game is ultimately played, Indy has to be eager to take on the Jaguars again. Jacksonville is the team that ended the Colts season and kept them out of the playoffs.
Surely Indianapolis is more at fault for actually losing to the worst team in the NFL, but Indy can still use the loss as a motivational factor.
Take into account that the Colts haven't beat the Jaguars as the away team in seven years and Indy has a lot to fuel their motivation. Fans will soon find out if Indianapolis will have to carry this motivation across the pond.