One coach almost prevented Darius Leonard from becoming the Turnover King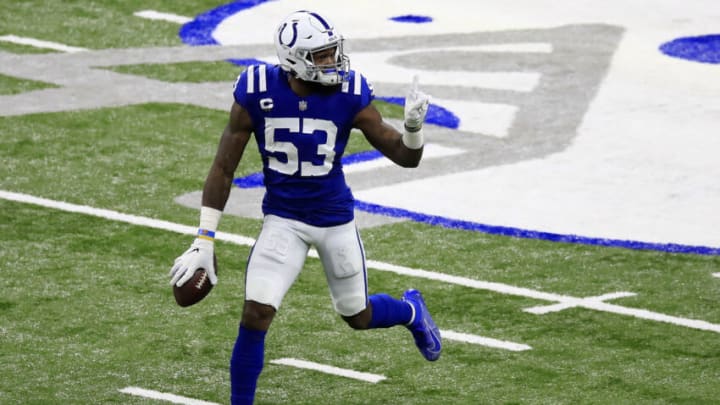 Darius Leonard. (Photo by Andy Lyons/Getty Images) /
Indianapolis Colts linebacker, Darius Leonard, was once coached to not attempt what has become his signature move.
In the 2021 season, Indianapolis Colts linebacker, Darius Leonard, officially became the NFL's Turnover King. In 16 games, Leonard recorded four interceptions, three fumble recoveries, and a league-high eight forced fumbles.
Turnovers were what made the Colts defense special last season and Leonard led the charge by perfecting the "Peanut Punch"— a precise punch to dislodge the football, named after longtime Chicago Bears corner, Charles "Peanut" Tillman.
Like Tillman, the punch-out technique has become a signature move for Darius Leonard. However, in a recent interview on the Pat McAfee Show, Leonard says that early in his NFL career, he had a coach that wasn't fond of punch-out attempts.
Darius Leonard was once coached not to punch the ball
Leonard, who started punching at the ball in college, says that in his second season with the Colts, a coach said, "We got guys punching instead of trying to tackle."
Leonard didn't reveal what coach said this, but it's probably for the better that the coach had a change of philosophy or is no longer with the franchise because Leonard's turnovers are one of the most impactful things for Indianapolis.
This story from Leonard aligns with his production through his first four seasons. In his rookie year, Leonard had four forced fumbles but in years two and three, he had two and three forced fumbles respectively.
In year four, Leonard nearly matched his first three seasons recording eight total forced fumbles.
He credits his pinpoint-punching accuracy to sibling squabbles. As a younger brother, Leonard had to learn how to make his punches count; now they count a lot for the Colts defense.
It's fair to say Leonard understood the coach's concern because Leonard was honest about the risk of going for punch-outs, admitting that it can lead to being run over like he was by Derrick Henry in Week 3.
However, Leonard has also shown that if you commit to the technique, it will pay off more times than not. Leonard has several game-changing turnovers and also rarely misses tackles.
Along with forcing turnovers, Leonard has been on a mission to change the way viewers evaluate defensive football. For the longest, sacks have been a priority in determining the best defenders. That's why pass rushers are usually awarded Defensive Player of the Year.
All season, Leonard has argued that turnovers are far more impactful than sacks, but the narrative hasn't changed. TJ Watt, who tied the single-season sack record, was awarded Defensive Player of the Year and Leonard didn't get a single vote.
That will likely only fuel Leonard to go post even more ridiculous numbers next season and force even more turnovers.
After the season he had last year, Leonard probably doesn't have to worry about any more coaches telling him not to go for the ball. In fact, it seems like Leonard will be a perfect match for new defensive coordinator, Gus Bradley, who has already talked about going after the ball on every play.