Colts may play Week 18 game in front of a crowd of clowns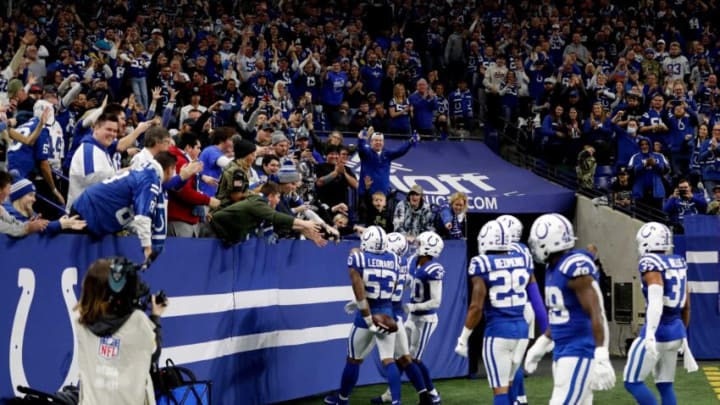 Indianapolis Colts outside linebacker Darius Leonard (53) and teammates celebrate with fans after Leonard's interception Sunday, Jan. 2, 2022, during a game against the Las Vegas Raiders at Lucas Oil Stadium in Indianapolis. /
The Indianapolis Colts may play their final regular-season game in front of an interesting Jacksonville Jaguars crowd.
On Sunday, the Indianapolis Colts' Week 18 game against the Jacksonville Jaguars will have a lot of eyes on it. The outcome of the game will have major playoff implications.
If Indianapolis wins, it will clinch a spot in the playoffs. If Indy loses, it opens the door for the Steelers to creep into the postseason and sets up a wild scenario between the Raiders and Chargers.
The playoff implications are only one reason this game is garnering a lot of attention. The other reason is because of a stunt that Jacksonville's fans are planning.
First reported by AP News, fed-up Jaguars fans are planning to wear clown attire to the final game of the season. This is the latest step in a movement by fans, hoping to urge Jacksonville's owner, Shad Khan, to move on from general manager Trent Baalke.
The movement started on social media with profile pictures and comments and now fans are ready to hit the stadium.
Jaguars fans plan to dress as clowns for Colts game
Full credit to the fans of Jacksonville, as this is probably the most organized thing involving the Jaguars franchise in the last two years. Their frustration is certainly warranted.
Since losing in the AFC Championship game in 2017, Jacksonville has lost the bulk of its talent, finished last in the division four-straight seasons, and is a combined 14-50 entering Sunday. Not to mention, the Jaguars are currently in line for the No. 1 overall pick for a second-straight year.
The peak of the dysfunction was Urban Meyer's short tenure as head coach. Meyer was signed to a five-year contract in January of 2021 and was fired in December, not even finishing his first season. His run didn't have much success but it had plenty of controversies.
Now Jacksonville is set to enter another offseason as the laughing stock of the NFL, and its fans want to make that clear on Sunday.
The state of the Jaguars bodes well for the Colts, who will make the playoffs with a victory. They're hoping to go into the circus on Sunday and put on a show.