Jonathan Taylor makes MVP statement with game-sealing touchdown run over Patriots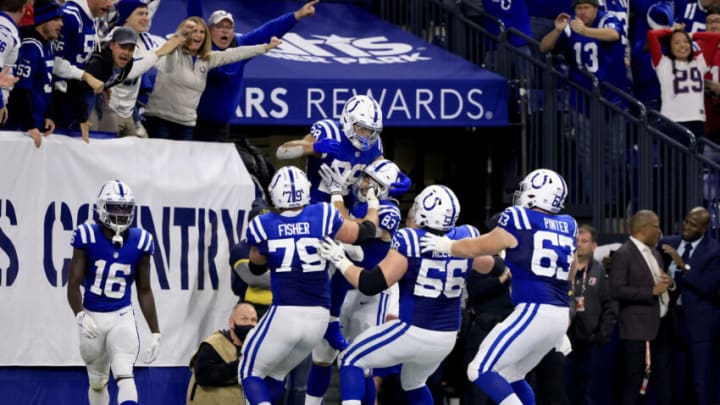 INDIANAPOLIS, INDIANA - DECEMBER 18: Jonathan Taylor #28 of the Indianapolis Colts celebrates his touchdown with teammates during the fourth quarter against the New England Patriots at Lucas Oil Stadium on December 18, 2021 in Indianapolis, Indiana. (Photo by Justin Casterline/Getty Images) /
Jonathan Taylor sealed a huge win for the Indianapolis Colts over the New England Patriots.
For the majority of Saturday night, the Indianapolis Colts dominated the New England Patriots. Indy jumped out to a 17-0 lead at the half and it appeared as if the team was going to skate to a victory.
In classic rivalry fashion, the game ended up being much closer than it should have been. New England was able to claw back within three points, making it a 20-17 game with two minutes left.
With the game on the line, the Colts turned to the men that have been getting the job done for them all season long, Jonathan Taylor and the offensive line. Like they've done many times, they answered the call.
Taylor received the handoff and took it 67 yards to score a touchdown and seal the victory for Indianapolis.
MVP-performance from Taylor secures statement win for Colts
Entering Saturday's game, the Patriots were on a seven-game winning streak and held the top spot in the AFC, but Indianapolis was all around the better team on the night.
On the defensive side of the ball, Indy put on one of its best performances of the year. Flying all over the field, the defense limited New England to 17 points and snagged two impressive interceptions.
The special teams also made their impact on the game by blocking a punt and recovering it for a touchdown in the first half. The blocked punt is really the play that opened this game up for Indianapolis.
This game was a huge statement for the Colts, who have struggled against other contenders during this season. The fashion in which they won on Saturday showed that they are serious contenders and will be a threat as the playoffs approach.
With this win, Indianapolis was able to move up to the fifth seed in the AFC and significantly improved their chances of making the playoffs.
While the fans will get to ride this joy for a week, the team must quickly turn their attention to the Arizona Cardinals. As great as this win was for Indy, it will be even better if they can do it again. They'll have the opportunity for another huge statement on Christmas night.