Colts: 2 players who've justified team's faith and one who hasn't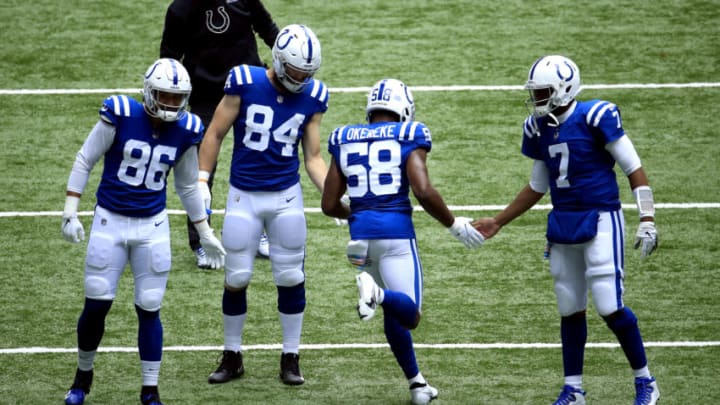 INDIANAPOLIS, INDIANA - OCTOBER 18: Bobby Okereke #58 of the Indianapolis Colts (Photo by Andy Lyons/Getty Images) /
The Indianapolis Colts don't have the benefit of aqua blue water and 80-degree weather to attract top free agents, meaning that Frank Reich and Chris Ballard have had to build this team on the back of smart drafting and gambles in the offseason.
Under Reich, that philosophy has paid dividends. Despite the constant shifting at quarterback, the Colts have made the playoffs in two of the last three seasons, and they are positioned well to overtake the Tennessee Titans for supremacy of the AFC South division.
The Colts have placed their trust in some players that a lesser organization wouldn't even have given the time of day to, and it ended up turning the Indy into one of the best teams in the AFC. A Reich offense and Matt Eberflus defense will do wonders for you.
However, they've had some pretty egregious misses over the years, and there is one player on this roster that has to have Ballard slamming his head into his palms when he examines his progress, or lack thereof, to this point.
2 Colts players have rewarded Indy, but one of them has disappointed.
Xavier Rhodes #27 of the Indianapolis Colts (Photo by Justin Casterline/Getty Images) /
Colts Win: CB Xavier Rhodes
If you ever needed more ammunition as to why the Pro Bowl is a complete farce, look no further than the fact that Rhodes was named a Pro Bowler despite allowing more than 80% of passes thrown his way to end up as completions in 2019. Rhodes' value fell off of a cliff, but he resurrected himself in Indianapolis.
Rhodes was able to record two interceptions of Sam Darnold in his matchup against the Jets, but his 42 tackles and 12 pass deflections show that the corner who was nearly impossible to throw toward during his prime in Minnesota has returned to action in Indy.
Xavier Rhodes turned his career around with the Colts.
The Colts might not have the best secondary in the world, but you could certainly do a heck of a lot worse than Rhodes at one outside cornerback spot and Kenny Moore in the slot. Cornerbacks have a ton of responsibility in Eberflus' scheme, and Rhodes has proven his quality once more in a new setting.
Rhodes is the type of player that needed a scheme that would allow him to make some mistakes while still giving him the responsibility he craves. Indy gave it to him, and he looks like one of their better defensive players heading into this season.