Colts: KJ Wright would be perfect addition to linebacking corps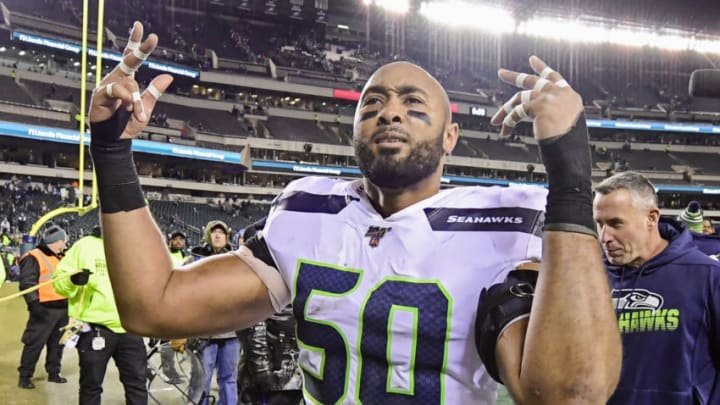 Free agent LB KJ Wright (Photo by Steven Ryan/Getty Images) /
The Indianapolis Colts currently have $17 million in remaining cap space, and there's just no way general manager Chris Ballard can justify preserving it. Though that idea sounds intriguing given that the cap is expected to increase next season, this current roster still has voids to fill.
Could the Colts be a dark horse candidate to land Julio Jones? Possibly, but Ballard all but vaporized those dreams by apparently laughing at the idea in a text to Pat McAfee. In terms of other high-profile targets, Indianapolis' options are extremely limited.
The deepest positions remaining on the free agent market are currently offensive tackle, cornerback and defensive lineman. While the Colts could justify adding a corner, linebacker is probably the only position on defense they'd pursue.
After all, Indy lost Anthony Walker to free agency, and Ballard, for reasons we still don't understand, opted against finding a replacement. Not only are there questions about whether Bobby Okereke is ready for a full-time role, but their depth at LB is non-existent.
Taking that into account, the Colts should consider a move for veteran KJ Wright, who's unfortunately fallen victim to the bleak off-ball linebacker market this offseason.
The Colts signing KJ Wright would be a fantastic end to their offseason.
Any player who's still braving free agency will likely end up signing a cheap one-year deal. Wright, despite enjoying a fine career with the Seahawks (who seem poised to insert 2020 first-round pick Jordyn Brooks as his replacement) falls under that category.
A non-expensive one-year deal falls right into the Colts' wheelhouse, too, as they prepare extensions for the likes of Leonard, Quenton Nelson and Braden Smith. We know that's one of Ballard's premium concerns, so signing Wright wouldn't imperil those efforts in the slightest.
A former fourth-round pick of the Seahawks, Wright has appeared in at least 13 games in every season of his career aside from 2018. For any fans concerned about his age (he'll turn 32 next month), he started all 32 regular season games over the last two years.
During that stretch, the former Pro Bowler played 89.5% of the defensive snaps, tallying 218 tackles, 16 of which went for a loss, 21 passes defended (!), four interceptions and two sacks, further proving that he's still one of the best coverage linebackers in the league.
Look at it like this, Colts fans: signing Wright would give Indy a solid three-man rotation of Leonard, Wright and Okereke at linebacker.
If they don't sign the 10-year veteran and opt against adding another reinforcement, Zaire Franklin, Matthew Adams, EJ Speed and Jordan Glasgow will be competing for snaps at the position. When you consider that group has started a combined 11 games throughout their respective careers, you can't expect much from them.
With all that in mind, the Colts really shouldn't think twice about this.