Colts poach Hall of Fame lineman for coaching staff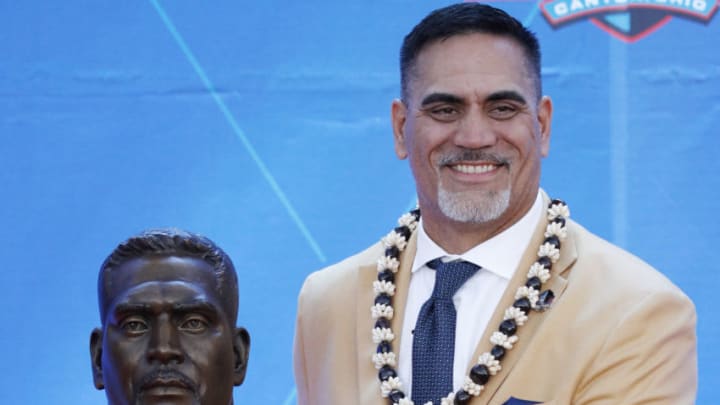 CANTON, OH - AUGUST 03: Kevin Mawae and his bust during his enshrinement to the Pro Football Hall of Fame at Tom Benson Hall Of Fame Stadium on August 3, 2019 in Canton, Ohio. (Photo by Joe Robbins/Getty Images) /
Just when it looked like losing players to retirement was going to be the Indianapolis Colts' biggest obstacle to overcome this offseason, their coaching staff was absolutely pillaged.
The mass exodus of departures began when offensive coordinator Nick Sirianni was hired as the new head coach of the Eagles. Like most first-time head coaches, he brought some familiar faces with him, including three of the Colts' most touted assistants, to cushion his transition.
It looked set in stone for a while that Indy was also going to need to replace offensive line coach Klayton Adams after he accepted the same job with Arizona State. In a shocking turn of events, however, he reversed course and decided to return to his old post with the Colts.
Well, it would appear that Adams' near departure was enough to convince the franchise to add another innovative mind to the offensive line department. In an objectively huge move for the team, Indy welcomed Hall of Fame center Kevin Mawae aboard the coaching staff.
The Colts added Hall of Fame offensive lineman Kevin Mawae to their coaching staff this week.
Fans would be hard-pressed not to get excited over this hire, but before we delve into Mawae's career accomplishments, we first must point on the irony in his appointment. After all, he was poached from Arizona State (!), where Adams was supposed to end up and where his former NFL head coach with the Jets, Herm Edwards, currently resides. You gotta feel for the Sun Devils a little bit here.
In all seriousness, Mawae has been itching for an opportunity to coach in the NFL, and that made his decision to leave Edwards empty-handed in the desert a fairly easy one. In case you're wondering what he'll bring to the Colts' coaching staff, he has 16 years of playing experience under his belt.
During his decorated career, Mawae played with three different teams (the Seahawks, Jets and Titans), and was a three-time first team All-Pro selection and an eight-time Pro Bowler. The 50-year-old was elected to the Hall of Fame in 2019, and has spent the past three years as an OL assistant on Edwards' staff. In another encouraging sign, he even has one year of experience coaching in the pros, spending 2016 as an assistant offensive line coach with Chicago.
The Colts' quarterback conundrum has consumed most of the conversation this offseason, but that shouldn't take away from this exceptional hire. If we're being honest, we couldn't think of anybody better to bring aboard to help the team overcome veteran left tackle Anthony Castonzo's bombshell decision to retire smack in the middle of his prime — hey, can Mawae still play, too, by any chance?
What a move for Indianapolis.