Colts: Jonathan Taylor getting better as O-line got worse is insane to think about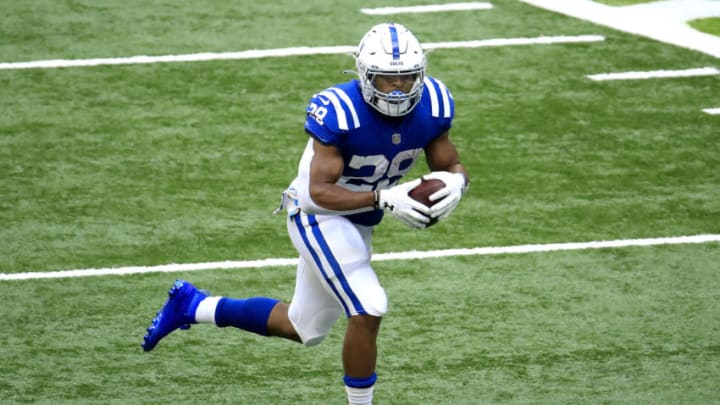 INDIANAPOLIS, INDIANA - OCTOBER 18: Jonathan Taylor #28 of the Indianapolis Colts carries the ball against the Cincinnati Bengals during the first half at Lucas Oil Stadium on October 18, 2020 in Indianapolis, Indiana. (Photo by Andy Lyons/Getty Images) /
The Colts are seeing Jonathan Taylor's best work at the perfect time.
Remember after the first half of the season, we had some reservations about Jonathan Taylor, at least for his rookie campaign? Though the Indianapolis Colts got their hands on the best running back in college with one of their second-round picks, he just seemed like he needed more time and experience before he fully adjusted to NFL life.
But then came Weeks 11-17. Over that span, Taylor has solidified himself as one of the best running backs in the league. What's even crazier than that? He's had his best games as the Colts offensive line had gotten progressively worse.
No, we're not taking any shots at the O-line's actual play — the unit has just been hampered by injuries, leaving glaring vacancies or forcing others to move around in order to make things work. But oh, boy, it's working.
Over Taylor's torrid stretch, Anthony Castonzo was placed on injured reserve, Braden Smith missed action after being placed on the COVID-19 list, and Ryan Kelly missed a game due to injury, while guys like Chaz Green and Will Holden started games. We even saw Quenton Nelson shift over to left tackle to provide some relief.
The funny part is that when the Colts' offensive line was at full strength and not shifting around from Weeks 1-10, Taylor couldn't find consistency. Once things started looking more uncertain, he discovered his footing.
We're not sure how that's the case, but we'll take it. It's clear he's become more patient in regard to finding holes and is running with a ton of power. Maybe he just needed to be relieved of some pressure. After all, the expectations were sky-high after Marlon Mack went down for the year and fans were excited to see Taylor do his thing behind one of the best offensive lines in the league.
Though Jacksonville and Houston are among the two worst teams in the league defending the run, Taylor managed to squeeze out impressive performances against the Packers, Steelers and Raiders, averaging over four yards per carry.
Next up? The Bills' No. 17-ranked run defense. Perhaps Taylor can continue running behind this version of the offensive line in Week 18.