Rodrigo Blankenship breaking Colts rookie record proves his frustration was valid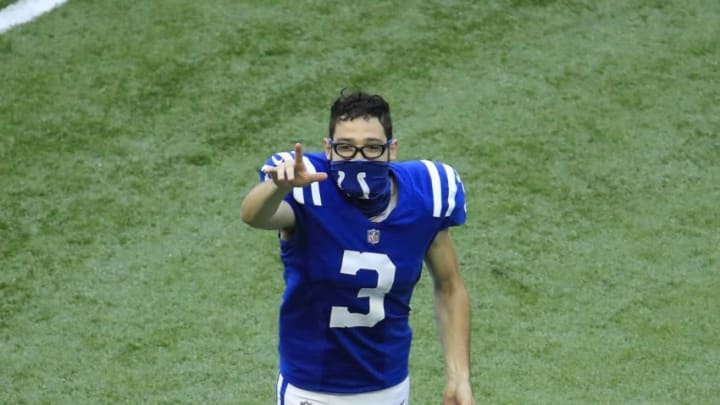 INDIANAPOLIS, INDIANA - SEPTEMBER 20: Rodrigo Blankenship #3 of the Indianapolis Colts waves to the crowd after the game against the Minnesota Vikings at Lucas Oil Stadium on September 20, 2020 in Indianapolis, Indiana. (Photo by Andy Lyons/Getty Images) /
Rodrigo Blankenship broke a Colts rookie record against the Raiders.
When Georgia Bulldogs kicker Rodrigo Blankenship went undrafted this past April, he felt disrespected. And how could he not? Three kickers, all of whom had a worse résumé than him, were taken, while he was tossed out into the undrafted free agent pool, waiting for a team to come calling.
Indianapolis Colts general manager Chris Ballard picked up the phone, knowing Adam Vinatieri's time with the team was likely coming to an end, and signed Blankenship, who would then compete with Chase McLaughlin in training camp for the starting job.
Now, after 14 weeks in the books, Blankenship just became the Colts' all-time leading rookie scorer in a single season. If that's not validation, then it doesn't exist.
This is the same guy who went 200/200 on extra points in college and was 80-for-97 on his field goal attempts (82.5%). He set a Rose Bowl record with a 55-yarder against Oklahoma in one of the most epic games in college football history and became Georgia's all-time scoring leader a year ago.
In his rookie season with Indy, Blankenship is 27-of-30 (90%) on field goal attempts with only one inexcusable miss, and has gone 35-of-37 (94.6%) on extra-point attempts. Raul Allegre is no longer the franchise leader in points scored for a rookie and Blankenship is just a field goal away from surpassing Mike Vanderjagt's rookie record of 27.
We'd say that post-draft "Fuel to the fire…" tweet has done wonders.
https://twitter.com/RodTheKicker3/status/1338279938080686081?s=20
Big win for the Bulldogs and the Colts. Huge losses for the Patriots and Rams (we'll give the Bills a pass for drafting Tyler Bass, because he's been pretty darn good this year himself). But the Pats took Marshall's Justin Rohrwasser with their fifth-round pick and he didn't make it out of training camp. The Rams went with Sam Sloman in the seventh round, and he was cut in late October.
It's time to respect the specs.