Latest COVID-19 update sounds bad for Sunday's Colts-Ravens game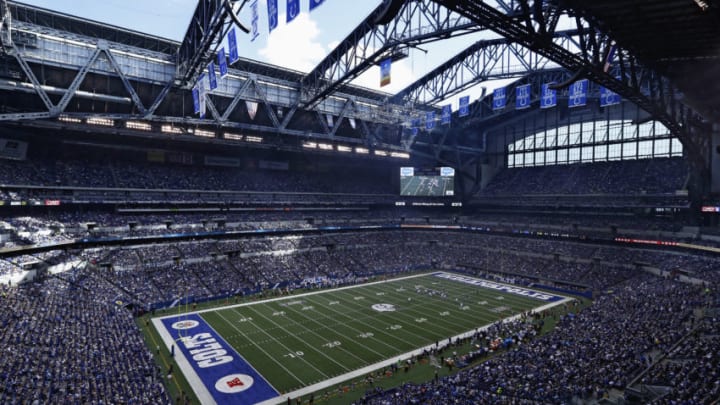 Lucas Oil Stadium (Photo by Joe Robbins/Getty Images) /
After an encouraging update on Wednesday, the latest news on COVID-19 doesn't bode well for the Colts' matchup with Baltimore in Week 9.
We've learned through the last several months that plans can change on a dime because of COVID-19, and the NFL is unfortunately realizing that first hand so far during the 2020 campaign after not implementing some form of a contingency plan during the extended offseason.
On Wednesday, Baltimore Ravens head coach John Harbaugh revealed that he hadn't heard any news regarding postponing this weekend's game against the Indianapolis Colts after cornerback Marlon Humphrey was ruled out after testing positive. Additionally, seven other Ravens players who were determined to be in close contact with the reigning All-Pro were ordered to self isolate for a minimum of five days, putting their status for the game in serious question.
As if that wasn't big enough of a hurdle to overcome, the Colts announced on Thursday that a member of their staff contracted the virus and they have since started the process of contact tracing to determine who (if anybody) needs to quarantine away from the team.
It certainly isn't a great look that Indianapolis decided to move forward with practice on Thursday despite (presumably) not having finished the contact tracing process. What if players who were in close proximity to the staff member who tested positive are carrying the virus unknowingly and infect other teammates?
We've seen that exact scenario come to pass on a handful of occasions this season, and it's simply a totally avoidable circumstance. Just be as precautionary as possible and cancel practice. We blame the league more so than the Colts, but surely head coach Frank Reich and Co. had a say in the matter, right?
We hate to be pessimists, but this update does NOT bode well for Sunday's contest, which carries huge playoff implications for both Indianapolis and Baltimore, both of whom have plenty of questions surrounding them as it pertains to whether they are true contenders.
Whatever the case, fans in Indy should keep close tabs on this development because if any more Colts players land on the Reserve/COVID-19 list, they would have to be away from the team for five days, meaning they wouldn't be eligible to play this weekend.