Lions thinking defense is on track after wins over Jags and Falcons is hilarious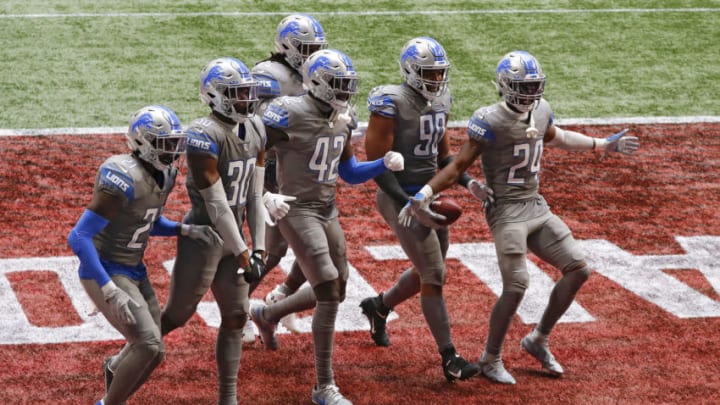 ATLANTA, GEORGIA - OCTOBER 25: Trey Flowers #90 of the Detroit Lions celebrates a fumble recovery with his teammates during the second half against the Atlanta Falcons at Mercedes-Benz Stadium on October 25, 2020 in Atlanta, Georgia. (Photo by Kevin C. Cox/Getty Images) /
The Lions defense thinking it's on track after wins over Jacksonville and Atlanta ahead of their matchup with the Colts on Sunday is rich.
One of the cardinal rules of football (or any sport, really) is to never underestimate an opponent, regardless of their record. Because of that, we are no way viewing the Indianapolis Colts' fixture against the Detroit Lions on Sunday as a cupcake matchup.
The latter is very quietly in the middle of a crowded NFC playoff picture after rattling off two victories in a row. While those wins came against two woeful teams in Atlanta and Jacksonville, you better believe that head coach Frank Reich's side will have their hands full against quarterback Matthew Stafford and Co.
With that out of the way, now we can absolutely dismantle Detroit, whose defense hilariously thinks it's back on track amid their two-game winning streak. All three of linebacker Reggie Ragland, edge rusher Jamie Collins and cornerback Jeff Okudah had high praise for the group in light of their recent performances.
We'll start with Ragland.
""Everybody doing their damn job," said the 27-year-old LB. "That's the thing, everybody doing their damn job. We know we're a damn-good defense so we just knew if everybody do their job and make things one-dimensional, we have a good chance at winning ball games.""
Perhaps Ragland hasn't looked at the stats, because the Lions' defense currently ranks 20th in the NFL in points allowed (27.5) and 22nd in total yards allowed (380.5) per game this season. We're no experts, but something tells us that a "damn-good defense" should at least rank in the top half of the league in those respective categories.
What about Collins?
""Definitely stopping the run more," said the former Pro Bowler. "It starts there. It always starts with stopping the run. We've definitely been doing that. Been doing that the last couple of weeks. We talked about this last time, in order for us to get those turnovers, we have to stop the run and that's what we've been doing, we've been stopping the run."So now we can really get after the quarterback and that's what we've been doing the last couple of weeks and it's been working for us.""
Those comments actually hold some value as Detroit limited breakout rookie James Robinson to just 29 yards in Week 6 and three-time Pro Bowler Todd Gurley to 63 yards (and two touchdowns) on 23 carries last Sunday. We all know those are two good players, but again they play for current laughingstocks.
We're not saying that the Lions shouldn't use momentum from previous games leading into their massive clash vs Indianapolis, but the extent to which their raving about past performances is laughable considering the Jaguars and Falcons have a combined 3-12 record this season.
We seriously hope the Colts come to play on Sunday, because somebody needs to humble this Detroit team, which would be 1-5 if not for two last-second victories.