Colts: Darius Leonard and TJ Carrie almost performed classic wrestling move on Jets player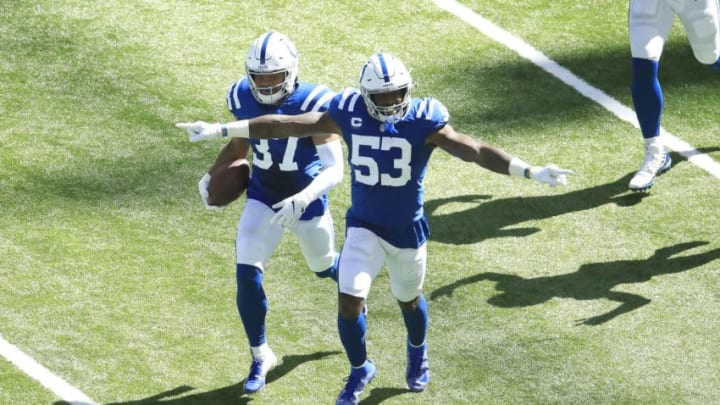 INDIANAPOLIS, INDIANA - SEPTEMBER 20: Khari Willis #37 of the Indianapolis Colts celebrates with Darius Leonard #53 after intercepting a pass against the Minnesota Vikings at Lucas Oil Stadium on September 20, 2020 in Indianapolis, Indiana. (Photo by Andy Lyons/Getty Images) /
Remember the Dudley Boyz? The Colts replicated their finishing move against the Jets.
Any wrestling fans out there? Namely the WWF Attitude Era? The resurgence of tag team wrestling overtook America and gave birth to the tables, ladders and chairs matches, and the king of the tables, the Dudley Boyz, were among the most fun to watch.
Let's hope somebody asked Indianapolis Colts defenders Darius Leonard and TJ Carrie if they were glued to the TV watching those because they (perhaps intentionally) nearly re-enacted the Dudley Boyz' finisher, the 3-D (Dudley Deathdrop), during Sunday's game against the New York Jets.
Put Kalen Ballage down! The man's got a family!
Here's another angle of Ballage trying to hurdle Carrie in the open field before he was met by the force of Leonard.
Forgot about the Dudley's? Here's a refresher:
The play right there pretty much sums up the Jets' season and the Colts' dominant 36-7 victory. The defense was flying all over the field and contributed two touchdowns and a safety in the beatdown, reminiscent of what the Dudley's used to do to their opponents in a tables match.
There have been so many questions surrounding the Colts thus far, even after their convincing 28-11 win over the Minnesota Vikings. While the win over a hapless New York team won't completely silence the skeptics, Indy got the job done against a team they should have beaten … and they did it without a single issue.
And they added some flair, too. Hitting milestones, scoring defensive touchdowns, and inadvertently attempting to land legendary wrestling moves — what a day.
The cherry on top would be Leonard and/or Carrie shouting out the Dudley's. Can we maybe get some t-shirts out of this? Possibly the both of them dressing up as Bubba Ray and D-Von? Something along those lines needs to happen because this cannot get lost in the year-end summary of 2020.