3 things we learned from Colts' win over Vikings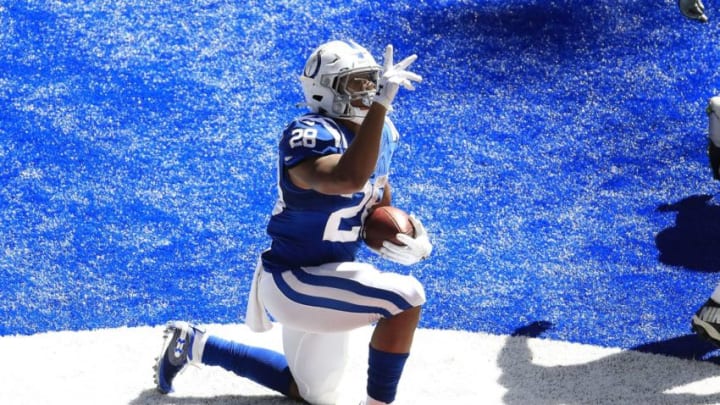 INDIANAPOLIS, INDIANA - SEPTEMBER 20: Jonathan Taylor #28 of the Indianapolis Colts celebrates after scoring a touchdown against the Minnesota Vikings at Lucas Oil Stadium on September 20, 2020 in Indianapolis, Indiana. (Photo by Andy Lyons/Getty Images) /
The Indianapolis Colts got their first win of the season at home on Sunday, besting the Vikings 28-11.
The Colts showed the NFL they aren't going to be put down by an embarrassing loss to the Jaguars. Indianapolis responded by getting a win and holding the Vikings to 11 points while forcing three turnovers.
On offense, Indy scored 28 points, and Jonathan Taylor was one of the highlights of the day as he took the starting role by the bull horns. Another rookie to shine was Julian Blackmon as he made sure the receivers knew he was there, delivering hard hits and breaking up passes.
While there were many good talking points to elaborate on, we can't overlook a number of aspects that need improvement or could adversely affect the team moving forward. The Colts experience red zone gaffes again and TY Hilton dropped another key pass. But the worst part of the day was Parris Campbell going down with a nasty knee injury, which we can only hope isn't season-ending.
Here are three things we learned from the Colts 28-11 victory over the Vikings.
Mo Alie-Cox #81 of the Indianapolis Colts (Photo by Andy Lyons/Getty Images) /
Mo Alie-Cox caught five passes for 111 yards and was consistently getting open against safeties and linebackers. He got the starting nod as Jack Doyle was ruled out with a knee injury.
With Campbell going down, the Colts could look to the tight end position as even more of a key component of the passing game. Frank Reich has made the tight end a big part of the Colts offense since he's been in Indianapolis, going back to Eric Ebron's 2018 season with Andrew Luck.
Doyle's been the go-to target since, but Alie-Cox proved he's capable of being a starter and not just a run-blocker. Schemed or not, the Vikings couldn't cover the tight end position on Sunday. Eric Kendricks was running all over the field trying to keep up with Alie-Cox and he couldn't do it.
He also made multiple blocks, sealing the outside for Taylor. Initially only used as a run-blocker, Alie-Cox needs to be more heavily incorporated into the passing game.