Colts 2020 rookie class has big impact in win over Vikings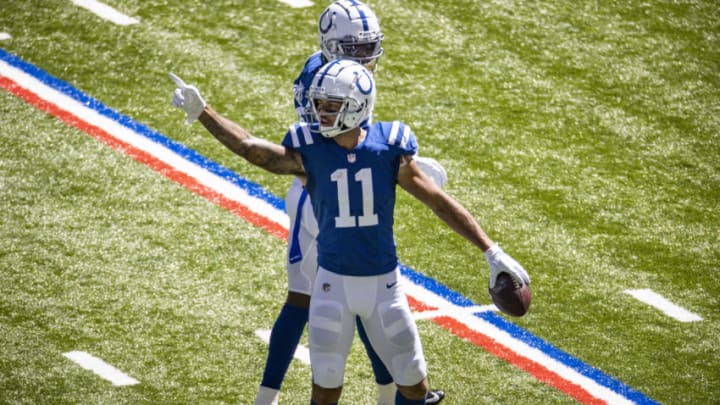 Michael Pittman #11 of the Indianapolis Colts points downfield after a catch for a first down during the second quarter against the Minnesota Vikings at Lucas Oil Stadium on September 20, 2020 in Indianapolis, Indiana. (Photo by Bobby Ellis/Getty Images) /
The Colts are coming off their first win of the season in which the 2020 rookie class helped on both sides of the ball.
Sunday's 28-11 win over the Minnesota Vikings put the Indianapolis Colts at 1-1 as they climb back up from last place in the AFC South. The Colts' defense won the game as the offense continued to struggle in the red zone, making five trips and coming away with only 20 points.
However, rookie running back Jonathon Taylor got his first touchdown of his career and went over 100 yards in his first official start. Taylor was patient, poised, and did everything asked of him, proving once again after Week 1 that he can be a threat out of the backfield.
Another offensive rookie who made plays was former USC receiver, Michael Pittman Jr. The wideout didn't light up the stat sheet — four catches for 37 yards — however, his blocks on the outside helped the running game pick up big chunks of yardage.
The Colts wanted to carve a role out immediately for those two and they're already showing they can contribute in a big way.
On the defensive side, fellow rookie and former Utah Ute Julian Blackmon got in the game after Malik Hooker went down with an injury. The Colts' young secondary was an issue last week, but they played great against the Vikings. Blackmon and Khari Willis were terrific, and they both made a huge play in the first half when Blackmon broke up a Kirk Cousins pass that allowed Willis to intercept it and return it 43 yards.
Additionally, Blackmon made two monster hits with one on the sure-handed Adam Thielen to force an incompletion. Blackmon showed why the Colts drafted him in the third round despite the fact he suffered an ACL tear in December. He's an aggressive, a sure-tackler and a ball hawk.
What other NFL team is getting this kind of production from three rookies? None to this degree, that's for sure. And when you realize the Colts traded their other first-round pick for defensive tackle DeForest Buckner, who absolutely dominated the Vikings up front, it was quite the offseason for Indy.
General manager Chris Ballard's plan is seemingly coming together, so let's do ourselves a favor and not overreact after tough losses.