Colts need to push through injuries once again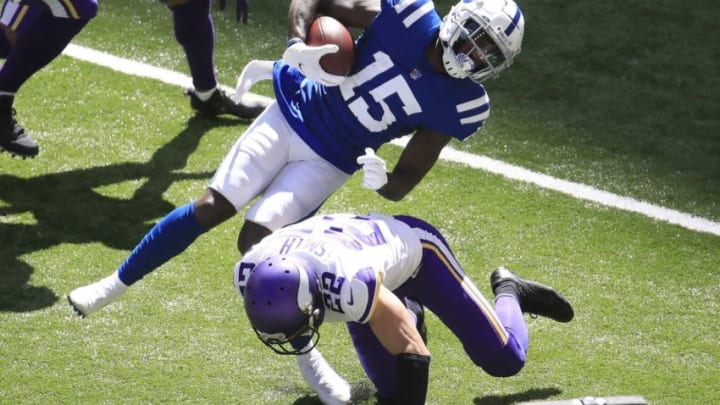 INDIANAPOLIS, INDIANA - SEPTEMBER 20: Parris Campbell #15 of the Indianapolis Colts is tackled by Harrison Smith #22 of the Minnesota Vikings at Lucas Oil Stadium on September 20, 2020 in Indianapolis, Indiana. (Photo by Andy Lyons/Getty Images) /
Stop me if you've heard this before: the Colts are ravaged by injuries. It seems like every year this happens, and every year the Colts need to push through them. This year is no different.
Sunday was a big win for the Indianapolis Colts. They beat down the Vikings 28-11 and avoided a dreaded 0-2 start. They looked much more like the team we thought they would be, running the ball 40 times for 151 yards.
This team had to have this win, but it did come at a big cost.
Like elsewhere around the league, the Colts had some key injuries in this game that will impact the team for the rest of the season. Parris Campbell got hurt on the second play from scrimmage after a brutal hit to his knee. The initial fears were that he tore his ACL, but it may not quite be that bad.
Losing Campbell is a big blow to a team with less wide receiver depth than other contenders. Campbell was expected to explode this season after missing most of his rookie season with a myriad of injuries. Now it will be up to T.Y. Hilton, Michael Pittman Jr., and Zach Pascal on the outside.
Malik Hooker also suffered a severe injury, of course. He tore his Achilles in the second half and is done for the season. This likely ends his career in Indy after the Colts opted not to pick up his fifth-year option. The former first-round pick never quite lived up to his potential.
Rookie Julian Blackmon stepped up and played splendidly in Hooker's absence, so fans at least have an early preview of a way out of the vacuum Hooker created. But he has to maintain the level of play he showed in his debut to eliminate the position as a concern.
This is all not to mention the major issues on offense, changing the way the unit was projected. Tight ends Jack Doyle and Trey Burton both missed the game, so Mo Alie-Cox had to step up and did so in a big way. Marlon Mack suffered a torn Achilles last week, and the starting running back is done for the year, which is a big blow to the running game. Mack was also in a contract year, so it's a crummy situation all the way around.
The rest of the Colts will have to step up the way Alie-Cox and Blackmon did on Sunday. This team has to use the "next man up" mantra to make up for these losses. That means players like DeForest Buckner, who had a great game, need to be great up front on defense consistently.
Coach Reich has his work cut out for him, but he should be able to get the best out of his team regardless of the injury situation.