Colts: Indy needs to extend this player instead of TY Hilton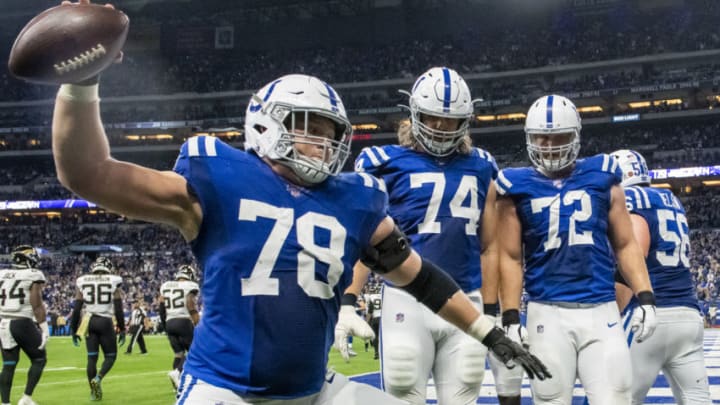 INDIANAPOLIS, IN - NOVEMBER 17: Ryan Kelly #78 of the Indianapolis Colts spikes the ball after an Indianapolis Colts touchdown in the third quarter of the game against the Jacksonville Jaguars at Lucas Oil Stadium on November 17, 2019 in Indianapolis, Indiana. (Photo by Bobby Ellis/Getty Images) /
The Colts should extend this player instead of wide receiver TY Hilton.
Recent history has proven that the Indianapolis Colts are quick to hand out contract extensions to players who deserve it, even if that player has a full campaign before he's technically due for a new deal. Look no further than the respective extensions cornerback Kenny Moore and punter Rigoberto Sanchez inked in 2019.
The Colts have over 20 players entering contract years this season, the most notable of whom is probably wide receiver TY Hilton. However, as important as the 30-year-old is to Indianapolis' offense — he's led the team in receiving in six of the last seven seasons –the franchise would be better off extending a pivotal component of its offensive line, center Ryan Kelly.
The 2016 first-round pick will play this year on the fifth-year option of his rookie contract, which Indy exercised last offseason. Both sides reportedly held discussions back in March, but negotiations were put on hold in light of the coronavirus pandemic.
If this was a topic for debate before the 2019 season, we probably would have given the edge to Hilton. However, recency bias is extremely important when it comes to contract extensions. Prior to last campaign, Kelly endured a two-year stretch where injuries were becoming a real concern as he appeared in a combined 19 games.
The Alabama product responded in a big way last season, starting all 16 games while playing close to 95% of the offensive snaps. Not only was he available, but Kelly performed like the stud Indy assumed it drafted four years ago. According to Pro Football Focus, he conceded just one sack on a whopping 591 pass blocking snaps. That's ridiculous for somebody playing one of the most difficult positions in the sport.
Hilton, meanwhile, couldn't stay on the field, as he had to overcome a calf tear and quad strain, which shelved him for six weeks. It's no surprise that the four-time Pro Bowler posted the worst numbers of his career.
We're not saying the Colts shouldn't give Hilton a contract extension, or re-sign him following a (hopefully) productive 2020 campaign. However, if there's one player who deserves it before the start of the upcoming season, it's Kelly. The veteran wide receiver might need to prove that he can stay healthy and produce for a full year before Indianapolis breaks out the checkbook.
The Colts strength is their offensive line, and they would be foolish not to keep its core intact. Elite centers don't come around very often, and Kelly is undoubtedly one of the best in the NFL. Nothing more needs to be said.