Colts need to improve their play in clutch time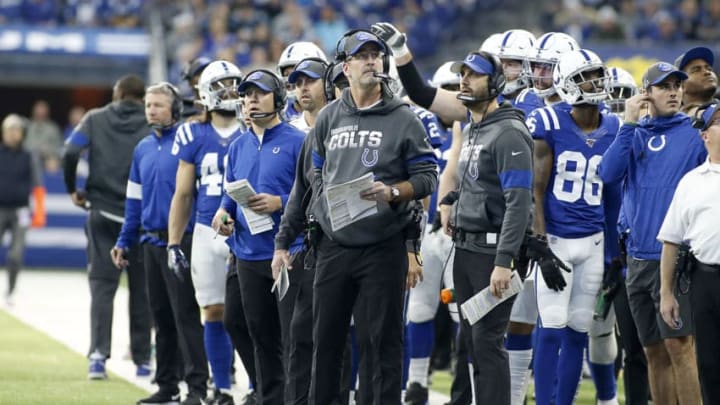 INDIANAPOLIS, INDIANA - DECEMBER 22: Head coach Frank Reich of the Indianapolis Colts looks up at the score board in the game against the Carolina Panthers at Lucas Oil Stadium on December 22, 2019 in Indianapolis, Indiana. (Photo by Justin Casterline/Getty Images) /
Last season, the Colts had an issue closing out close games. Making the playoffs this year hinges on their ability to win these close one-score games.
Winning close games is something that every team strives to be better at. The Colts were not as good in that situation as they could have been last year. While they won five games that were decided by one-score, they also lost five games in that same scenario.
If the Colts want to make the playoffs and make a run at a championship, they have to have better than a .500 record in those scenarios. There are a few reasons why their record was so poor in these games and a few ways that they can fix these problems.
One of the reasons they were so bad in these situations a year ago is that the offense wasn't built to come from behind. Jacoby Brissett isn't the kind of quarterback to force the ball down the field in late-game situations. It's hard to win games from behind when you don't take chances.
Another reason they weren't so good in these scenarios is that the secondary had issues communicating, especially late in the season. That should improve this season, as most of the secondary that started last season returns this season.
Philip Rivers should be able to help the first problem. He, for better or worse, likes to force the ball down the field throughout the entire game. He should at least give the Colts a fighting chance to come back to win in these one-score situations.
Rivers should also help the team not get behind as much next season. A better offense can give the Colts more chances to take the lead instead of trying to chase it. One way to win more one-score games is to not give up the lead in the first place.
As far as the secondary goes, the addition of Xavier Rhodes should help in that regard. Rhodes is a former All-Pro. If he can regain that form, the secondary should be in a better position to keep large yardage gains from happening.
Mostly, it will be up to the coaching staff to put the team in better positions to win these close games. Having that should help the team win the games they need to in order to make the playoffs.