Colts' receiving corp held together by scotch tape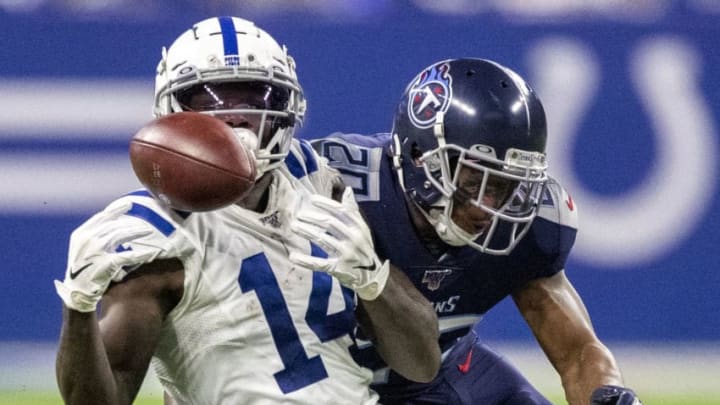 Zach Pascal #14 of the Indianapolis Colts bobbles the ball before making a catch in the fourth quarter of the game against the Tennessee Titans at Lucas Oil Stadium on December 1, 2019 in Indianapolis, Indiana. (Photo by Bobby Ellis/Getty Images) /
That's what seems like is holding this group together. There are injuries everywhere through the corp, and they ended Sunday with only three healthy receivers on their roster.
The Colts have been killed by injuries this season. I sound like a broken record, I know. But the receiving corp seems to have been hit particularly hard. They lost another receiver on Sunday when Chester Rogers suffered a season ending knee injury.
This entire group looks like it's held together by some flimsy scotch tape. They have exactly one good healthy receiver left, and that's Zach Pascal. Marcus Johnson was on the practice squad most of this year, and so was Ashton Dulin. That's it. That's the list of healthy receivers left.
One good thing is that Parris Campbell did practice most of last week, so he is close to coming back. Who knows when T.Y. Hilton will be healthy enough to come back though. That calf injury seems like it will linger until the end of time.
The Colts did work out Dontrelle Inman yesterday. Inman was on the squad last year for 9 games and played reasonably well. But it looks like he didn't work out well enough to warrant the Colts signing him, as he left without a contract. That's surprising considering they just need a warm body out there.
If Campbell and Hilton are out again this week, it could get ugly. Tampa Bay will just load up the box to stop the run and force the Colts to throw to beat them. Based on what we've seen the last couple of weeks, they can't do that to win.