Colts vs. Steelers: Week 9 preview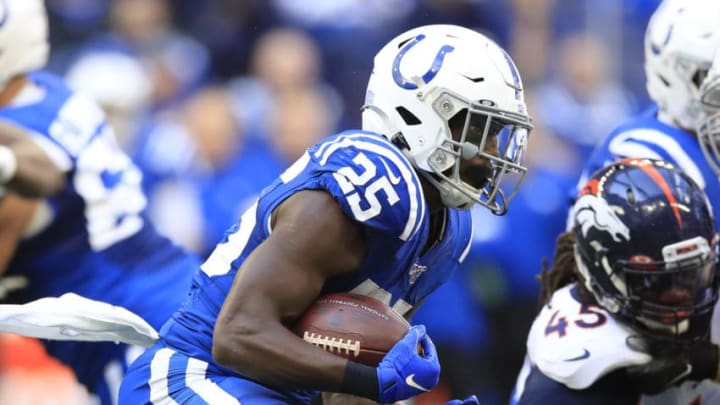 INDIANAPOLIS, INDIANA - OCTOBER 27: Marlon Mack #25 of the Indianapolis Colts runs with the ball against the Denver Broncos at Lucas Oil Stadium on October 27, 2019 in Indianapolis, Indiana. (Photo by Andy Lyons/Getty Images) /
The Colts are looking to keep their winning streak going against a team they haven't had much success with recently.
The Colts finally take a break from their home stand to travel to Pittsburgh this week. Pittsburgh is coming off a win on Monday night, so they have a short week. Although the Steelers might not have lost to the Colts in 10 years, this week might be different for a variety of reasons.
Perhaps the biggest reason is the fact that they have a backup quarterback out there. Mason Rudolph hasn't looked very good since he has taken over the job. On Monday night, it was apparent what the Steelers gameplan is with him; throw the ball to the outside.
Rudolph can't diagnose coverages over the middle well at all. They pretty much just let him throw one-on-one routes to the outside. He won't be able to do that against the Colts' cover 2 scheme. They should force him to sit in the pocket and think a little bit.
If the Colts decide to do that, it would take a little pressure off of Rock Ya-Sin, who struggled mightily in man-to-man coverage last week. He will be looking for a big bounce back game. The rest of the secondary should play well too.
On offense, the Colts have to protect the ball. Pittsburgh is the number two team in the league in turnovers. They have a total of 19 takeaways this season. They are also 10th in the league in total defense. Jacoby Brissett has to be patient and take what they give him.
The Colts are trying to surge to the number two spot in the AFC while the Steelers are trying to stay in the divisional hunt in the AFC North. It should be a great game to watch.