Colts doing well stopping the run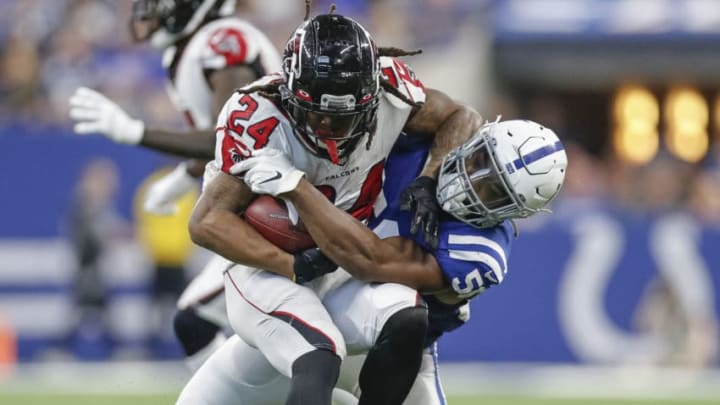 INDIANAPOLIS, IN - SEPTEMBER 22: Devonta Freeman #24 of the Atlanta Falcons is wrapped up for the tackle by Anthony Walker #50 of the Indianapolis Colts during the second half at Lucas Oil Stadium on September 22, 2019 in Indianapolis, Indiana. (Photo by Michael Hickey/Getty Images) /
While their pass defense hasn't been the pillar of success, the Colts have done a good job stopping the run so far.
The Colts haven't done a great job in their pass defense so far because of some shoddy linebacker play. They have let too many balls get thrown over their head in zone coverage. While that has happened on the passing end on defense, the Colts have turned it on in run coverage.
It has been over 20 games since the Colts last allowed a 100 yard rusher. A large part of that has been the downhill play of Darius Leonard and Anthony Walker. Both have done a good job in run defense diagnosing plays and hitting the holes where the ball carrier is.
While they have been able to keep a single player from dominating in the run game, multiple running backs do sometimes give them issues. In the opener against the Chargers, they allowed two running backs to beat them more than they should have.
But besides that, they have done a good job limiting run production. They shut down Derrick Henry and Devonta Freeman in consecutive weeks. Stopping the run is the pillar of most defenses because then you eliminate the threat of play-action pass.
The Colts will eventually get the pass defense figured out down the line. They have a week to really get it fixed before they face the reigning MVP. But as far as the run defense goes, it's in a place not many Colts defenses in the pass have been in.