The Colts need to run the ball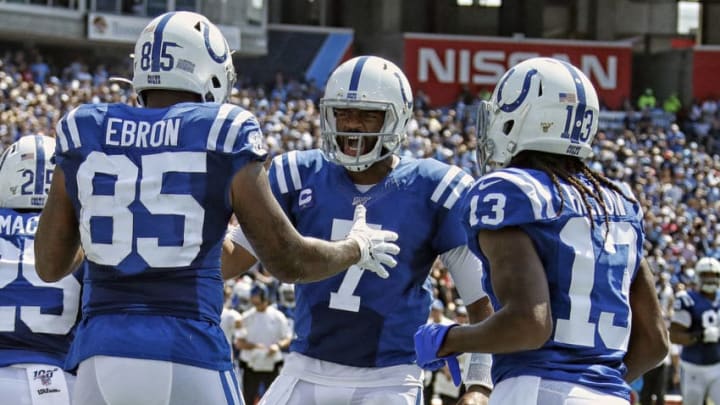 NASHVILLE, TENNESSEE - SEPTEMBER 15: Quarterback Jacoby Brissett #7 of the Indianapolis Colts celebrates with teammate Eric Ebron #85 on a touchdown against the Tennessee Titans during the first half at Nissan Stadium on September 15, 2019 in Nashville, Tennessee. (Photo by Frederick Breedon/Getty Images) /
The 2019 Colts are much different from what we've seen in the past. Just by watching a game you can tell drastic differences. That's not a bad thing or a good thing. Just know Marlon Mack is a bell cow back and don't let people tell you different.
A lot of Colts fans have been complaining on social media over the lack of chunk plays and being "effective" in the passing game. Three words Colts fans. QUALITY OVER QUANTITY. Jacoby Brissett has been very effective in the passing game.
I don't care if the numbers aren't really there. There's only 1 number that matters in football. That's the number of wins in the win column. Frank Reich's goal for this season was to have a top rushing attack. Guess what Colts fans? The Colts are second in rushing yards. Oh and a win on Sunday will put us at the top of the AFC South.
Last Sunday when the Colts beat a division rival in the Titans, Brissett only threw for 126 yards. He finished the game 17/28 throwing 3 touchdowns and 1 interception. That wasn't a very good game although he threw for 3 touchdowns he had a lot of incompletions.
60% is nothing to brag about but people forget that the Titans defense is a very good defense. My only big knock on Brissett's play is the sacks. Most of them are his fault. You can't be holding the ball that long. Don't get me wrong some blame does go on offensive line but a lot of it goes to Jacoby. That'll be cleaned up eventually, Andrew Luck had that same problem in the beginning of his career. Be patient with him he'll get it.
I get it guys. It can be very frustrating watching a run play go for 2-3 yards. But guys it's building momentum and wearing the defense down. The Colts have been incredibly effective running the ball. Those 2 yards runs turn to 7 yarders and then eventually a big gain. Stay patient Colts fans those big plays through the air will come.
This isn't the first time the Colts have started slow gaining big plays downfield through the air. Just last season when Andrew Luck was starting he started off slow. A lot of check downs and quick throws. Also very effective. Eventually those big plays came. And they'll come along this season too.
Don't worry Colts fans just stay patient. Jacoby is an effective quarterback.
Colts fans were in a new era. It's the Jacoby Brissett era. The JACOBYMANIA era. Yes I said it. Believe it or not guys I said jacobymania before the whole "minshewmania" started. Don't sleep on the Colts or Jacoby Brissett. We may not throw for 200 yards but we'll put up points. And as Big Q's hat says we will "RUN THE DAMN BALL".