Colts vs. Falcons: Week 3 game predictions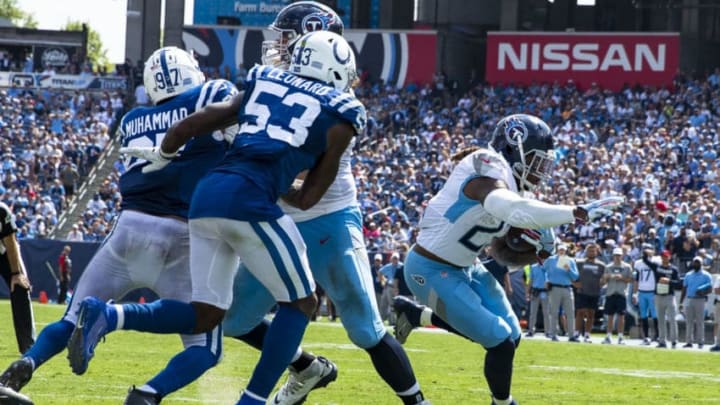 NASHVILLE, TN - SEPTEMBER 15: Derrick Henry #22 of the Tennessee Titans carries the ball for a touchdown during the third quarter against the Indianapolis Colts at Nissan Stadium on September 15, 2019 in Nashville, Tennessee. Indianapolis defeats Tennessee 19-17. (Photo by Brett Carlsen/Getty Images) /
We now know that Darius Leonard is out for this game. How does that affect the Colts' ability to win. Can they still win this game without him?
The Colts are in a tougher spot than they were a few days ago. They have two players ruled out for their game on Sunday against the Falcons, one of them being their star linebacker. Their home opener has now become much harder to win because of injuries.
It's not just Leonard being out, it's two other critical players who are questionable. Marlon Mack and T.Y. Hilton are both questionable and will probably be closer to game-time decisions. That makes this game much harder to win. Losing these two players too would be devastating.
Based on what we know now, this game will still be extremely close. The Falcons haven't been that great since losing the Super Bowl. But they gained some confidence after beating the Eagles. Now they come to Indy building off of that confidence looking for another win.
The Colts will likely still run the ball a lot, no matter who their starting running back is on Sunday. The offensive line will still be able to open up holes for that back, and the Colts can run their offense based off of that. Play action will be big in this one.
Game Prediction: Colts 20 Falcons 17
Adam Vinatieri will turn his struggles around. He will kick two field goals in this game and make all of his extra points. That will be the key to this one, and the Colts win a low-scoring affair at home against a team that is desperate to get back to where they once were.
If the Colts can win this one with all of the injuries they have, they will be in good shape moving forward.