Defense bails out Vinny, Colts win 19-17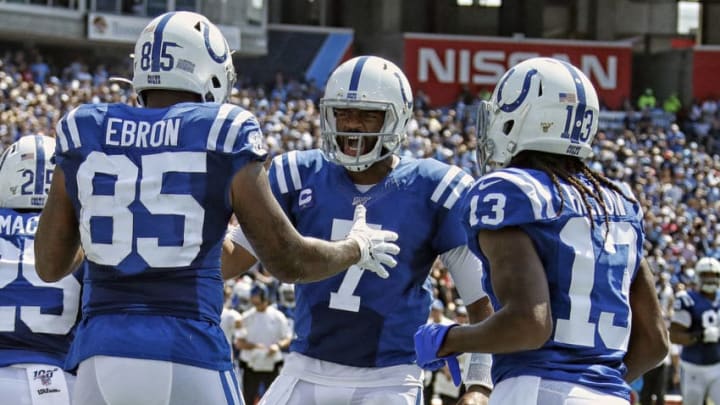 NASHVILLE, TENNESSEE - SEPTEMBER 15: Quarterback Jacoby Brissett #7 of the Indianapolis Colts celebrates with teammate Eric Ebron #85 on a touchdown against the Tennessee Titans during the first half at Nissan Stadium on September 15, 2019 in Nashville, Tennessee. (Photo by Frederick Breedon/Getty Images) /
The Colts got their first win of the season today, beating the Titans 19-17. Even though they got the win, they need to address the issues at kicker.
The Colts defense came up huge, stopping the Titans on 4th and 2 with 11 seconds left to steal the victory in the fourth quarter. They only allowed the Titans to score three points off of two Jacoby Brissett turnovers, and had four sacks on the game.
Perhaps the biggest story of the game is the rapid decline of Adam Vinatieri. Vinatieri missed two extra points in the game, and continues to struggle mightily. The Colts should bring in multiple kickers next week to workout, because the Vinatieri era needs to end immediately.
Vinatieri's decline was so sharp and so shocking that no one saw it coming. But he cost them the game last week and almost lost the game again this week. The important thing is that the Colts got the win and they pull themselves up to 1-1 on the year.
Brissett didn't have his best game. In fact, the offense in the second half mostly sputtered. Brissett only had 146 yards passing and had two turnovers. He did also have three touchdown passes though. But the Colts didn't commit to the running game enough in the second half.
Jordan Wilkins did have a huge run in the fourth quarter. He had a 55 yard run that set up a touchdown pass to T.Y. Hilton on the very next play. Wilkins was actually the leading rusher in this game for the Colts, rushing 5 times for 82 yards.
The defense came up huge in this game late. They had two big stops late in the game, including a big sack by Darius Leonard to force a long field goal from the Titans, which they ultimately missed. They struggled to start the second half, but righted the ship in a big way.
A win is a win, and the Colts won't apologize for the way they got it. This was a gritty, gutsy performance by the entire team. But it will be very interesting to see how the Colts address the madness that is the kicking position moving forward.