Colts vs. Titans: Week 2 offensive post-game grades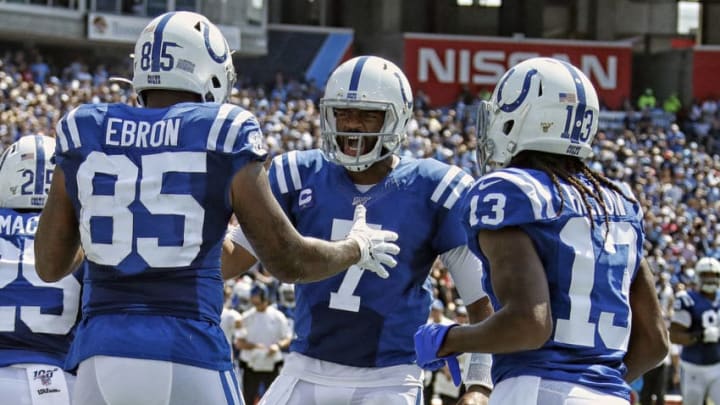 NASHVILLE, TENNESSEE - SEPTEMBER 15: Quarterback Jacoby Brissett #7 of the Indianapolis Colts celebrates with teammate Eric Ebron #85 on a touchdown against the Tennessee Titans during the first half at Nissan Stadium on September 15, 2019 in Nashville, Tennessee. (Photo by Frederick Breedon/Getty Images) /
The Colts were able to hold on to win 19-17 in Tennessee, extending their winning streak against the Titans. The offense struggled, but also had their moments.
The Colts' offense started out very well in this one. They went down on their opening drive and scored a touchdown. After that, it was a bit of a struggle, especially in the second half. But Jacoby Brissett and company did just enough to get the win. Here is how each unit graded.
Brissett looked good early in this game, and threw two touchdown passes in the first half. He also threw the game winning touchdown pass to T.Y. Hilton in the fourth quarter. But he also had a bad interception, another pass that should have been picked off, and a bad fumble in which no one touched him.
For most of the second half, Brissett looked lost. He couldn't complete anything down the field and didn't look strong. But he did escape from several sacks and showed some grit in getting first downs on some runs. He needs to clean up a few things, but did enough today.
Marlon Mack was bottled up pretty well by the Titans all game long. He only had 51 yards on 20 carries. But Jordan Wilkins busted out a 55 yard run late in the game and had 82 yards on only 5 carries. No one from this group scored though, which isn't ideal.
The offensive line struggled at times in this game. They gave up three sacks, and should have given up more if not for the magic acts performed by Brissett to escape. They also didn't open up a lot of holes for Mack to run through either.
But late in the game, they stepped up and did what they needed to do. The Titans are a tough defensive team, so they needed time to try and wear down their front. They were able to do so on their last drive, and it paid off in the end.
Eric Ebron caught the first touchdown pass of the game on a nice shovel pass at the goal line. He ended up catching three passes for the game, and Jack Doyle ended up catching two more as well. They didn't accumulate a ton of yards, but blocked reasonably well in the running game as well.
The receivers had some issues getting open in this game. Part of that is because of how good the Tennessee secondary is, but they still have to do better in that regard. Parris Campbell did catch his first NFL touchdown pass of his career. T.Y. Hilton caught the game winning touchdown pass as well, so there was still some positive things from this group.
The offense needs to be better as a whole to win more games, but they did just enough to win a tough divisional game in some tough conditions.