Andrew Luck: The team moved on with a good attitude, so should you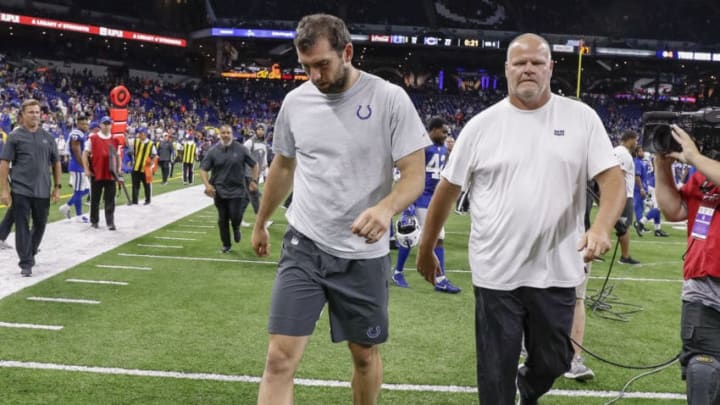 INDIANAPOLIS, IN - AUGUST 24: Andrew Luck #12 of the Indianapolis Colts walks off the field following reports of his retirement from the NFL after the preseason game against the Chicago Bears at Lucas Oil Stadium on August 24, 2019 in Indianapolis, Indiana. (Photo by Michael Hickey/Getty Images) /
Andrew Luck just announced his retirement and shocked Colts nation. However frustrating that is to the fans, you have to respect the man for going out on his own terms
I'll admit, my first reaction was anger and rejection for the man I've known as my Quarterback for the last 7 years. But after hearing Luck speak, I can tell it was his time to let the game go.
If it's one thing coaches don't want, it's a player that has one foot out the door in the locker room. Andrew Luck didn't quit on his team, he put himself first and that should be respected.
Look back to 2017 when the organization downplayed the injury to the star's shoulder. Luck went through a whole year of rehab and didn't even play. Luck had a great career with the Colts and we should be respecting him walking away from the field on his terms.
However ridiculous it sounds, I'm glad he walked away from the game. Before you jump on me, hear me out:
Luck accomplished everything he set out to do: The quarterback has led the Colts to an AFC title game and multiple playoff appearances with success. Even last year winning nearly 10 games straight to get us into the playoffs. Who cares about records? Yes, a Peyton Manning fan saying "who cares about records?" isn't exactly what someone would expect is it? However painful it is to say, I'm glad he's leaving when he is so this team can move on without him.
The Organization accepted it and moved on, you should too: If anyone has a right to be angry is the head coach, owner, and GM. However, they accepted it and moved on. It's the old adage my mom used to tell me "if the players can shake hands at the end of the game, the fans should be able to too." If they can accept it with a gracious and understanding heart, so should you, the fans.
The newly married man wants more time with his wife: The biggest reason he cited was not being able to live his life the way he and his wife wanted to. The past 4 years all offseason he's been rehabbing or injured. That's four years without a vacation or time off from his career. I can barely go 6 months without time off let alone four years. Not to mention I don't have the stress of being the leader of one of the best football teams in the NFL – maybe not now, but you get my point.
All I'm saying is, respect Andrew Luck for making an adult decision at a time which he did. Sure, quitting on his team 2 weeks before the season opener isn't a good look, but the fact that Brissett has been playing with the starters all pre-season and offseason put a sense of commitment the team has to Brissett right now.
Not to mention we have one of the best offensive-minded head coaches in the NFL, if not the best. Our GM finds gems in places we didn't look at, and on top of that, our defense is finally coming off a top 10 season with one of the best young linebackers, a veteran pass-rusher, and a secondary primed to explode on the scene.
Bottom line: deal with it.
Hit the chill button.
Everything will be ok.
After all, it's just a football team.