Colts' Deon Cain looking great to start camp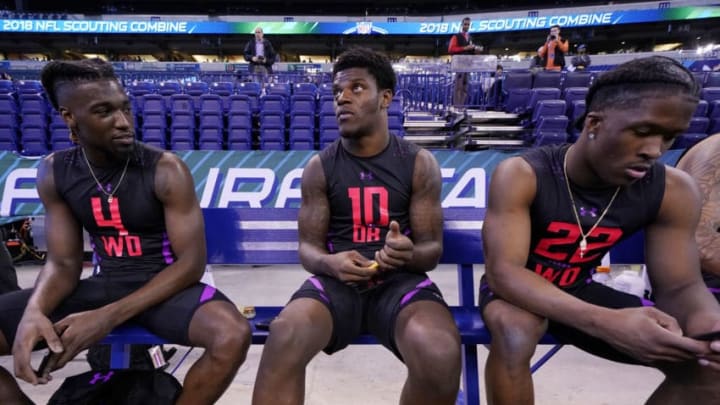 INDIANAPOLIS, IN - MARCH 03: Louisville quarterback Lamar Jackson looks on while talking to Clemson wide receivers Deon Cain (left) and Ray-Ray McCloud (right) during the NFL Combine at Lucas Oil Stadium on March 3, 2018 in Indianapolis, Indiana. (Photo by Joe Robbins/Getty Images) /
There's only been two full days of camp, but the former sixth round pick is doing what he did last year; turning heads.
Deon Cain had a rough start to his NFL career. He was a great player during training camp in 2018 and looked like he was going to be a big part of the receiving corp. Then he tore his ACL in the preseason opener, and everything went downhill from there.
Cain had to go through some tough rehab, but now he is back. He is back and looking just as good if not better than he did a year ago. There have only been a couple of practices, but people within the organization are thrilled at how well he has come back from his injury.
Adding Cain to the receiving corp would be massive for the Colts. They already added two new weapons in Devin Funchess and Parris Campbell. But adding a guy in Cain who made all the catches in camp last year could make things even better.
The Colts are hoping Cain can come in and contribute right away. With how well his rehab has gone, that shouldn't be a problem. The Colts are expecting him to be a great fourth receiver and have some good plays in key times this season.
There is still a lot of training camp left to go, and the preseason as well. But the Colts are optimistic at what they have in Cain even after a terrible knee injury as a rookie.